Contract Beheerder
Voor onze vestiging in Antwerpen zoeken wij een dynamische kracht in de service afdeling van communicatie-, navigatie- en observatieapparatuur. Je bent verantwoordelijk voor het beheer van de schepen en/of objecten die RHBE onder contract heeft.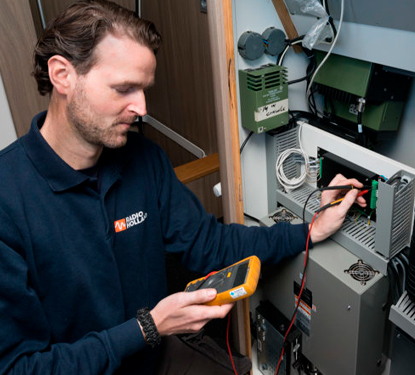 Wie zijn wij?
Radio Holland is wereldwijd bekend in de maritieme industrie als Global NavCom, Connectivity, ICT on Board en Service & Maintenance provider. 24 uur per dag, 7 dagen per week beschikbaar, verbindt Radio Holland haar klanten met een ongeëvenaard wereldwijd servicenetwerk van 70 kantoren langs de wereldwijde scheepvaartroutes.
Radio Holland levert unieke technische service-expertise waarmee klanten een slimmer, winstgevender bedrijf kunnen runnen met minder uitvaltijd en lagere operationele uitgaven. Onze hoogopgeleide technici zijn experts op het gebied van maritieme elektronica die diensten van topkwaliteit ter plaatse leveren. Radio Holland biedt kostenbesparende serviceovereenkomsten en ondersteuning voor onderhoud op afstand voor schepen op zee over de hele wereld.
Hierbij ben je verantwoordelijk voor
Kennis en beheer van de contractportefeuille, alsook de administratie ervan
Draagt zorg voor een kost effectieve en effici nte planning en uitvoering van periodieke inspecties en preventieve reparaties van de apparatuur welke onder contract staan.
Je hebt als doelstelling om in kader van het contractbeheer binnen de gebudgetteerde kosten te blijven
Neemt een proactieve houding aan naar klanten
Neemt vragen van klanten aan en neemt deze in behandeling en categoriseert ze
Geeft indien van toepassing prijzen op, m.b.t. reparatie en tarieven
Geeft de service door aan eigen technici wanneer het schip in een Belgische haven is of lokale subcontractors in het buitenland
Maakt service orders aan in het ERP-systeem
Controleert de voortgang van uitstaande service aanvragen en grijpt in indien nodig
Informeert klanten over de voortgang van de service
Beoordeelt facturen van subcontractors (goedkeuringsproces)
Regelt follow up in het geval een service niet succesvol is uitgevoerd
In geval van betwisting door klant, zorg je voor rechtvaardiging of in overleg met service manager een schikking.
Aansturing van subcontractors
Aansturing van administratie
Draagt zorg voor het serviceproces: vanaf orderacceptatie t.e.m. levering
Draagt mee bij tot klanttevredenheid
Rapporteert op maandelijkse basis aan service manager de kosten vs baten per contract en geeft forecast per einde contract periode.
Neemt actief deel aan het werkoverleg
Profiel
Je beschikt minimaal over een diploma technisch middelbaar onderwijs en je hebt ervaring in contractmanagement. Je bent assertief ingesteld en gaat graag een uitdaging aan.
Je bent stressbestendig en communicatief sterk. Je beheerst de Nederlandse en Engelse taal, zowel schriftelijk als mondeling. Je hebt een sterke verantwoordelijkheidszin die kwaliteit en continuteit waarborgen en waardoor je zelfstandig een opdracht tot een goed einde kan brengen. Kennis van communicatie- en/of navigatieapparatuur is een duidelijke pré. Affiniteit met de maritieme markt speelt in je voordeel.
Aanbod
Werken in een hecht en collegiaal team binnen een internationale organisatie en een steeds evoluerende sector. Een vast bediendencontract, een aantrekkelijk salaris afgestemd op verworven kennis en ervaring, GSM en laptop.
Geboeid?
Stuur zsm je cv en motivatiebrief per mail naar cindy.voorhoof@radioholland.com. Voor meer informatie kan je contact opnemen met Hendrik Impens op 03/320.99.78.