As a Project Engineer, you will play a crucial role in the project team, providing technical guidance and expertise, ensuring efficiency and effectiveness at all stages. Your role will involve translating project proposals into detailed designs and practical engineering solutions.
Preparing work packages for execution, which includes documentation, drawings and interface descriptions, will also fall under your purview. Collaboration with internal and external stakeholders to understand project requirements and integrate them into designs will be a routine part of your job.
In collaboration with the Project Manager, you will serve as a liaison among our clients, suppliers, and team of field engineers. Together, we strive to ensure that projects are delivered to the customer's satisfaction and in accordance with our safety and quality standards.
Who we are
Radio Holland is globally known as an important specialist in Satellite and Radio communication, Navigation, Automation and Observation systems for various maritime users in the shipping industry. For every conceivable electronic function on board, we offer innovative, efficient solutions by supplying, installing, and integrating advanced and high-tech equipment. In addition, we guarantee fast and efficient service through a worldwide network of branches and agents along the world's major shipping routes. We strive for a high level of service and a long-term relationship with our customers and focus on innovative and sustainable technologies to improve efficiency and safety on ships. Always there. Everywhere.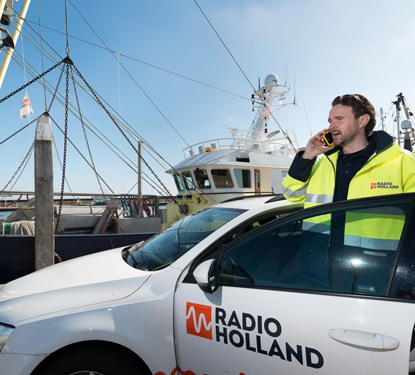 Responsibilities
Technically manage various design and engineering projects, ensuring adherence to project objectives, timelines, and budgets.
Provide technical guidance to the team, in good collaboration and effective communication.
Monitor project progress, identify potential issues, and proactively implement appropriate solutions.
Stay up-to-date with industry trends and advancements in design and engineering technologies.
Evaluate project outcomes, identify areas for improvement, and develop new procedures and processes to enhance efficiency and effectiveness.
Serve as an expert in a specific technological field, providing technical support and expertise to project teams and stakeholders.
Skills / Abilities
Technical background and expertise, with the ability to provide guidance and support to project teams.
Strong problem-solving and decision-making abilities, with a proactive and solution-oriented mindset.
Effective communication skills, with the ability to collaborate with cross-functional teams and stakeholders.
Familiarity with industry standards and regulations related to design and engineering.
Education
At least a finished vocational degree in a relevant field (e.g., Engineering, Design, or a related discipline). A Bachelor's degree would be a plus.
Our Offer
At Radio Holland we offer a dynamic workplace and an attractive compensation package matching your skills and experience. You also get the chance to work in an enthusiastic team of like-minded professionals.
Apply
Do you have a proven track record as a Project Engineer and are you ready for the next challenge? Please send your cover letter and résumé to jobs.nl@radioholland.com