Furuno FSV-25: Combination of an Excellent Performance and an Amazing Range
The Furuno FSV-25 has a stunning performance and an amazing range. With new 3D Sonar Visualizer™ F3D-S (optional application) you can see fish and sonar information in 3 dimensions, "real world" view.
Thanks to recent advancements in low-frequency transducer elements, signal processing and increased transmission power, detection range has been increased by a full 30%*. With the Furuno FSV-25 you can instantly spot and follow schools of fish from several kilometers away.
*Compared with FSV-24/35. Performance may vary depending on depth, range and signal frequency used.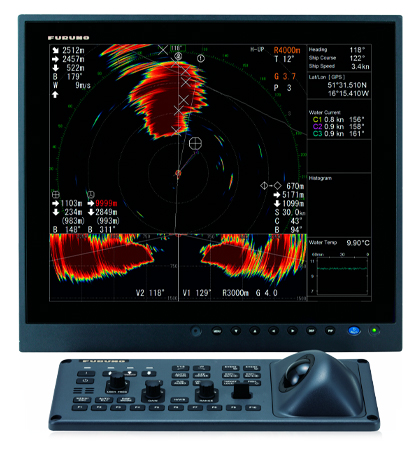 Features
Improved resolution with new signal compression algorithms
Fully extend the transducer in just 12 seconds for 1200 mm stroke and in 16 seconds for 1600 mm stroke
Stop function when extending and retracting transducer
Stabilization function for unwavering performance
Automatically track schools of fish with target lock function
Accurate control with large physical control unit
Auto filter for clear and uninterrupted performance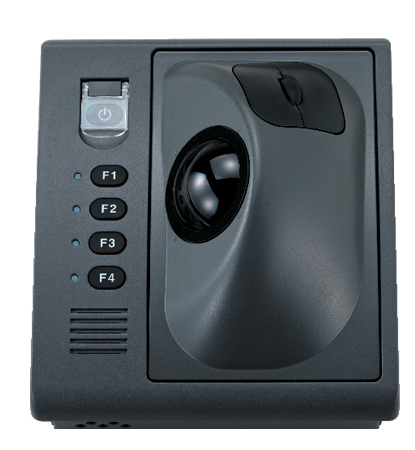 Furuno FSV-25 Is Easy to Use
By using the simple user programmable dial, you can set and change the settings depending on which kind of fish you are searching for. With TLL output, you can save the position of your favorite fishing grounds directly to a connected chart plotter. You can even capture and replay both stills and video content recorded on your device. Stills and video can be saved to external USB memory.
Accurately Track Fast-Swimming Fish
Accurately track fast-swimming fish, such as tuna and marlin, close to your vessel. The Furuno FSV-25 will automatically lock on to schools of fish found and display estimates of distance, depth, speed and angle of movement. Target lock is also available for stationary positions (speed and heading information required). Upon locking the target on any given school of fish, a histogram of echo strength distribution can be displayed immediately.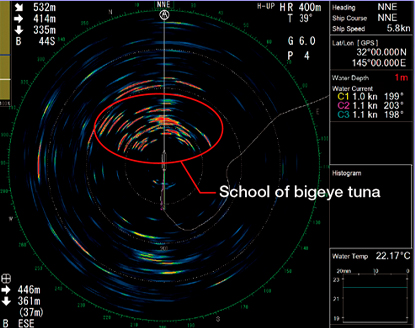 Ask Us for More Information?
Contact one of our specialists for more information or a quotation!