On 29th June 2016, Radio Holland Malaysia opened a new office in Johor, Malaysia to support shipping in the ports of Johor and the vicinity.
Over the years, Radio Holland Malaysia has expanded its business to the Southern Region of Malaysia known as Gelang Patah, Johor. The official opening ceremony was held in Jen Puteri Hotel, Johor. With this new office, Radio Holland Malaysia is always closeby to perform service in the ports of Johor. Radio Holland already has an office in Port Klang.
The new office is located near Malaysia's container terminal, The Port of Tanjung Pelepas (PTP). PTP is strategically located at the confluence of the main east-west shipping lanes. One of PTP's key advantages is that it is approximately 45 minutes from the world's busiest shipping lanes. Easily accessible from the Straits of Malacca, PTP is situated on the eastern side of the mouth of the Pulai River in South-West Johor. PTP is a naturally sheltered deep water port and is near the Malaysia-Singapore Second Crossing. Nearly 3000 vessels call at PTP yearly.
Paul Smulders, CEO of Radio Holland says: "With the addition of our new office in Johor to our already extensive network of offices worldwide, we will be able to bring our support and services faster to our clients. With yet another new office, the meaning of our Radio Holland slogan – "Always There. Everywhere" is further reinforced."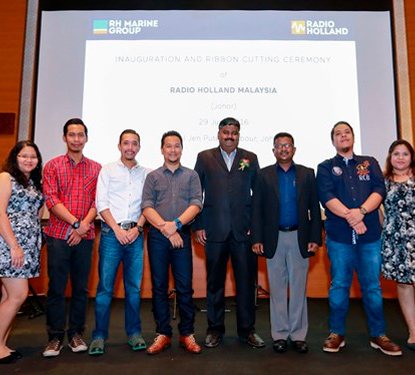 Contact details Radio Holland Malaysia
Radio Holland Malaysia Sdn Bhd
No. 19-02, Jalan Puncak 1, Taman Nusa Puncak
81550 Gelang Patah
Johor Darul Takzim
Malaysia
T: +603 3319 3974