Maintenance and Remote Support Agreements
Today's modern maritime industry means that there is a constant drive for higher efficiency and cost reduction. To meet this requirement Radio Holland has developed a new range of Maintenance and Remote Support Service Agreements.
Integration of on-Board Maintenance and Remote Support
The purpose of these agreements is the integration of on-board maintenance and remote support to provide and ensure an optimal solution in order to reduce your daily running costs and to let you be on your way with fully functional equipment at all times.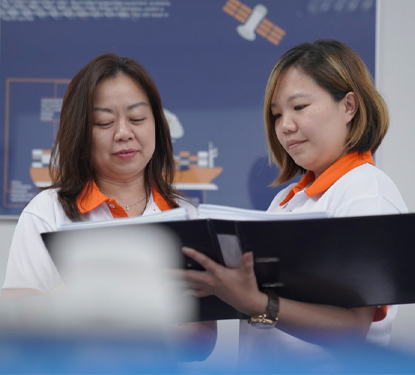 Managed Service Agreement
Fully outsource your equipment maintenance to our experts who are dedicated to maximizing your uptime.
Our Managed Service Agreement extends your operational team by providing you with dedicated experts and priority service along the world's major shipping routes. We care about you and your equipment, therefore we provide budgetary, hassle-free services that reduce breakdowns and unexpected costs. We help you and your crew to focus on what's important. Let Radio Holland take the strain and keep your NavCom running smoothly!
Preventive Mandatory Agreement
Relax in the knowledge that your NavCom complies with regulations at all times and keeps your crew safe and your business uninterrupted.
We make things straightforward by ensuring that mandatory inspections and surveys are done when it's convenient for your vessel. We'll also help you reduce the costs of ownership by providing an easy to understand equipment health check and performance report. At Radio Holland we care about you and your equipment and we keep everything stress free.
Service Rate Agreement
Our agreed rates make your life easy: manage your service and maintenance with preset, global rates.
At Radio Holland we care about you and your equipment. Our Service Rate Agreement provides clear, pre-agreed rates in all Radio Holland ports around the world. Say goodbye to multiple POs, invoices and unexpected labor rates.
Shore Based Maintenance
GMDSS Compliance with SBM Agreement
A Shore Based Maintenance Agreement includes the SBM certification and makes your GMDSS station compliant in accordance with IMO's SOLAS GMDSS regulations. Arrange your SBM with Radio Holland and have priority services for your vessels secured.
Find Out More
If you want to find out how Radio Holland can help to improve the uptime of your NavCom equipment and reduce unexpected costs, contact one of our specialists today!