Radio Holland signs global reseller agreement for Shipznet
bobz GmbH (Hamburg) and Radio Holland (Rotterdam) have announced their partnership agreement today. Shipznet, an innovative development of bobz GmbH, offers a high speed mobile network service for merchant shipping, through a world-wide monthly flat rate near-shore and in harbors, without additional roaming costs. Radio Holland, renowned for its global network and NavCom, Connectivity and Maintenance solutions, sees Shipznet as a valuable extension of its connectivity portfolio. At the SMM Exhibition in Hamburg Radio Holland will present the Shipznet solution at stand no. B6-200.
"With the Shipznet solution our customers are able to switch from satellite communication to the mobile network, up to 30km from the coast. The main benefits for our customers are the substantially higher speed compared to current satellite communication and the cost savings compared to FleetBroadband", says Armin Holkers, Business Line Manager Ship to Shore.
Additional bandwidth near shore
Shipznet complements current VSAT solutions by offering a cost effective high-speed data connection. When approaching the shore, onboard communication systems will switch from the (unlimited) VSAT satellite to the mobile network that enables a higher bandwidth. In case of FleetBroandband fleet management will also notice cost savings due to Shipznet's lower monthly subscription fees. Furthermore, Shipznet is also an effective standalone solution for near-coast sailing.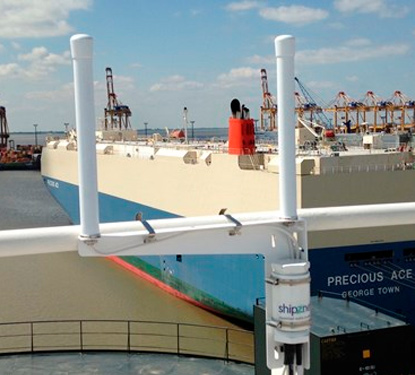 Shipznet crew solution
With the Shipznet crew solution, buying individual pre-paid SIM cards for each country is no longer necessary. The crew solution of bobz GmbH offers the crew a comfortable way of communicating with family and friends, by using vouchers. When the contingent is used up, it can be recharged with the shipping company or the Master.
"With Radio Holland, we have connected to a partner who is a well-known global services company. We are convinced that this partnership is a big step to market Shipznet successfully worldwide" says Claudia Bobzin, Managing Director of bobz GmbH. "Communication demands of today's shipping industry have increased immensely. Shipznet is a world-wide solution for communication and supports shipping companies with reducing their communication costs."