Dutch shipyard Royal Niestern Sander has awarded Radio Holland a contract to supply all of the Navigation & Communication equipment for a pioneering shallow draught, icebreaking walk to work vessel – the first of its kind in the world.
are delighted to have won the contract for this unique new vessel type, which essentially combines four ships: one with a shallow draught, an icebreaker, crew transfer vessel and walk to work vessel. By combining all of these functions, this revolutionary ship enables the end client to execute year-round operations in the most challenging winter conditions off the east coast of Sakhalin island, Russia.
Radio Holland will supply an extensive NavCom package, largely comprising Furuno equipment, including its renowned Voyager integrated bridge system and FICE-100 ice detection radar. As well as the broad ranging equipment package, Radio Holland will perform the installation work, carry out the commissioning and the project management in close cooperation with the Royal Niestern Sander team.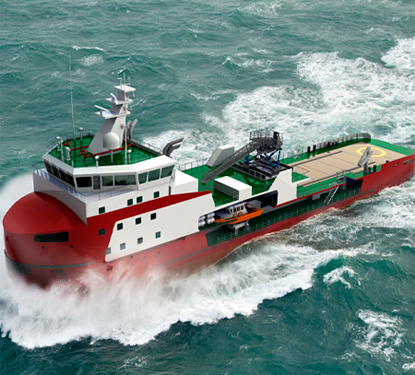 Commenting on why Royal Niestern Sander decided to award Radio Holland this prestigious project, Jan Doorduin, Managing Director, says: "Royal Niestern Sander and Wagenborg have a long-lasting relationship with Radio Holland and have worked together on many ships. Choosing Radio Holland again was a logical choice.
This long-established history is important to us. Additionally, Radio Holland's presence in the north of the Netherlands was a key factor in the decision. By cooperating on this project in this way, we can contribute to the region."
Another consideration is that Radio Holland is the main distributor for Furuno equipment in the Netherlands and it was important that the equipment could be supported in the remote region where the vessel will be operating. Radio Holland has an unrivalled global network of 70 offices.
Radio Holland is very much looking forward to playing a role in the construction of this special vessel. Yorick Spoelstra, Radio Holland Account Manager, comments: "It is truly impressive that the Netherlands has the expertise to build such an exceptional vessel. We are extremely proud to be working closely alongside Royal Niestern Sander on this project."