Radio Holland is awarded with a Managed Service Agreement (MSA) for the entire ALP Maritime Services fleet. The companies have been working together in the global maritime market for more than ten years. The longstanding partnership involves the complete install base in navigation and communication equipment.
ALP, established in January 2010, is a specialist in ocean towing, offshore positioning and mooring of floating platforms, heavy transport and salvage operations. ALP Chief Operating Officer Leo M. Leusink, one of the founders of the company, explains why it chose again Radio Holland as its service partner:
"Our ships sail all over the world. We need a good and reliable partner for our NavCom equipment to help us serve our customers in the oil & gas industry. We chose this contract because we are active in tramping. Our ships go everywhere; we never know exactly which ports they will call at. As a result, we need a high level and quick response support and maintenance with global coverage. We experienced Radio Holland provides exactly that."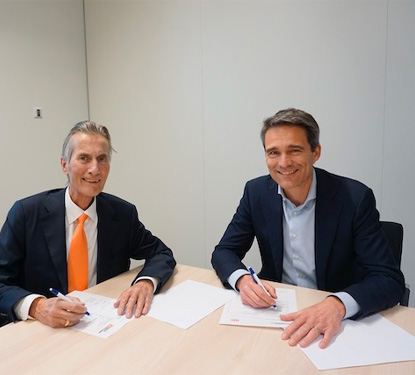 Long-lasting partnership
ALP Maritime Services and Radio Holland go way back. COO Leusink has a long history with Radio Holland, actually dating back more than 40 years when he worked on the tug boats of Smit Internationale in 1980. Radio Holland provided the NavCom service and maintenance. "Ever since the beginning of ALP, the company had dreamed about building its own ships", says Mr. Leusink, "Together with Ulstein Design, it started designing the 'ALP Future Class' – anchor handling and tugboats with a bollard pull of around 300 tonnes and Dynamic Positioning capability – in September 2011." Mr Leusink says: "When we started designing the ALP Future Class we requested Radio Holland to equip the vessels with NavCom equipment."
Maarten Tromp, Managing Director of Radio Holland Group says: "Over the years, the companies have partnered to equip the newbuild and retrofit vessels: In February 2014, ALP awarded Niigata Shipbuilding and Repair Inc. a contract to build the four vessels. The first two vessels were delivered in August 2016 and December 2016 and the following two medio 2017. In 2015, ALP took over six traditional-style tugs (200-300 tonnes bollard pull) and it got in touch with Radio Holland. The six tugs, as well as the four newbuild vessels are covered by the Managed Service Agreement with Radio Holland."
About ALP Maritime Services
ALP was founded in 2010. Early 2014 ALP ordered four 300ts BP ultra-long distance Anchor Handling Towing vessels -currently known as ALP Striker, Defender, Sweeper and Keeper- at the Niigata Shipyard in Japan. The vessels were delivered between 2016-2018. In 2014 ALP acquired 6 modern AHT's currently known as ALP Ippon, Ace, Forward, Winger, Guard and Centre with a total of 1,450ts BP. ALP is a 100% daughter company of Altera Infrastructure.
ALP Maritime Services BV is based in Rotterdam and was founded by Arjen de Geus (CFO), Leo M. Leusink (COO) and Paul Mulder (CEO) in January 2010.
Website: alpmaritime.com