Jotron TR-810 VHF AM Mobile Radio
Jotron TR-810 VHF AM Mobile Radio is a compact multipurpose VHF AM transceiver, designed for applications where remote control of the radio is not needed. Flexible to AC or DC mains, with a battery pack solution. TR-810 is designed to meet future demands for a lightweight, rugged and flexible radio, specially designed for vehicle and desk-top applications.
Jotron TR-810 VHF Transceiver is designed to meet future demands for a lightweight, rugged and flexible radio. The Transceiver Desktop Version includes: 83200 TR-810 Transceiver Base Unit and a package of 86419 TR-810 DE Accessories, which includes microphone, power AC/DC, front module bracket, antenna connector BNC-RG213, console bracket and manual. These accessories can also be purchased separately.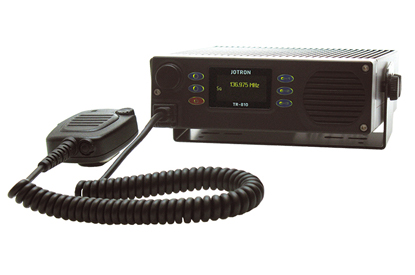 Features
ETSI and FCC approvals
10W output when used as vehicle installation or desktop mount
Wide DC input voltage (10 to 28V)
Fast recall of 3 preset channels
A visually pleasing OLED display
Detachable front panel
Built-in loudspeaker (optional external loudspeaker)
Multiple microphone input connections
Voice recorder output
External battery unit with battery indicator
Several mounting options
25kHz/8.33kHz channel separation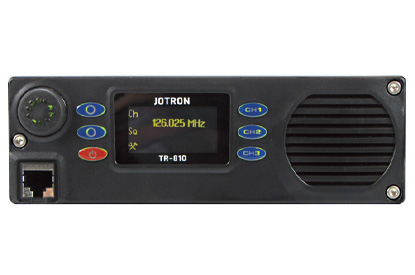 Alternative Versions
Other versions of the TR-810 are the Portable version, the Last Resort version and a Vehicle version. The Portable version of the TR-810 is fitted in a carrying bag with two pockets, one for the charger and one for the microphone. The battery capacity is 72Wh on which the transceiver can function for 7.5 hours when 10% transmitting, 30% receiving and 60% idling at 10W output.
Want to know more?
Contact one of our specialists for more information or a quotation, they are more than willing to assist.