Maxsea TimeZero Professional Plotter
Maxsea Timezero Professional software has been designed to answer the navigation needs and requirements of all professional seafarers. With features that are truly cutting-edge, TimeZero software has two main objectives: Supreme control and Performance.
Compatibility with S-63 charts
Keeping up to date charts is an essential element to ensure the safety of all those at sea. TZ Professional is now compatible with the official encrypted S-63 charts. S-63 charts are updated every week. These maps respect the S-52 standard developed by the International Maritime Organization (IMO). The iconography offers a simplified display in order to improve the readability of the marine charts on-screen.
The user interface of TZ Professional is intuitive and easy to use when it comes to managing all your navigation data as well as all the other features which have made Maxsea TimeZero a huge success for more than 30 years.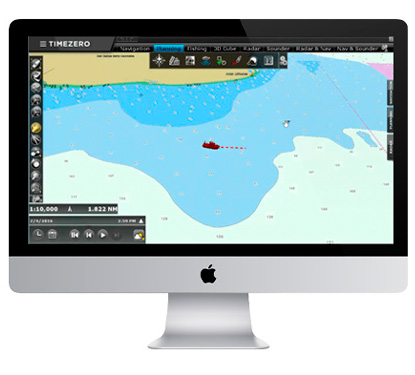 Master the seafloor with advanced sounder features
Thanks to it being fully compatibility with Furuno Digital Filter (FDF™) fish finders, the sounder module allows you to enjoy all the advanced features of Furuno sounder such as: Sounder Echogram, Accu-Fish, Bottom Discrimination.
Discover the ocean floor
By adding the optional WASSP Module together with the PBG Module to your Maxsea TimeZero software, you can connect this Multi-Beam Sonar via Ethernet to your computer and unlock powerful integration features. The WASSP Sonar continuously receives multiple depth readings of the sea floor area around your boat. This data is sent directly to TimeZero and used to create a highly detailed PBG map. Save time and money by mapping the sea floor faster than ever before.
Control the position of your trawl doors with TZ Professional
The new Trawl Positioning Module available for TZ Professional allows you to view the position and movement of your trawl doors directly in the software. TimeZero can integrate data coming from MARPORT sensors for real-time display of your fishing gear. Furthermore, specific tools and workspaces have been developed, allowing you to analyze your navigation areas from different angles.
Want to know more?
Contact one of our specialists for more information or a quotation, they are more than willing to assist.