Marelec Trawl Control
Marelec trawl control presents optimum fishing efficiency with automatic winch control. The Automatic winch control system of Marelec not only offers an important reduction of trawl damage by an automatic shooting of the wires but also a propeller pitch reduction when the net is caught after an obstacle on the seabed. It has additional advantages, such as keeping a maximum net opening, and allowing faster turns.
Based on Marelec trawl control, there are several fishing gear control systems available adjusted to the type of fishing operation.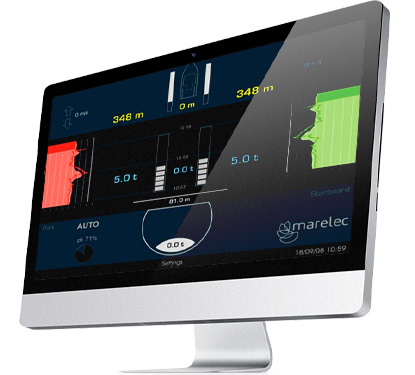 Marelec D-PROTEC for beam trawling
Gives an intelligent control of the winch brakes in case of overload.
Marelec SI-D for bottom trawling
For electric & hydraulic winches, including Monoblock winches
Control of the wire on EQUAL tension (SYNCHRO I master/slave principle)
Wire release control in case of overload (on both wires)
Practically: one winch will work about 5% of the fishing time.
MARELEC SII-D for bottom trawling and Pelagic trawling
For electric & hydraulic split winches
Wirelength & tension measurement with instrumented pulleys
Control of the wire on CONSTANT tension (SYNCHRO II)
wire release control in case of overload (on both wires)
MARELEC 2 for hydraulic winch drives
All measurement integrated on the winches
Interface with net sensors possible
Single trawl. Classic cost-effective solution
MARELEC 3 for hydraulic winch drives
All measurement integrated on the winches
Interface with net sensors possible
Double trawl
MARELEC D-FLYSHOOTING
Measurement of wirelength & tension
Optimum fishing efficiency with automatic winch control
Important reduction of trawl damage