Marelec Wirelenght & tension measurement
Fishing with minimal risk while maximizing the catch is what drives the MARELEC trawl control systems. Line tension and length measurement is continuous monitored and used to automatic shoot or haul the gear.
MARELEC L1
Wirelength measurement system.
0-9999m
Precision 0,3%
18-28 VDC/10 W
Integrates dimensions of the measuring roller or winch drum
MARELEC L1/V
Wire speed measurement system: 0 – 9.9 m/s
MARELEC L1/R
NMEA-repeater
Application: fishing industry, offshore industry, oceanology
MARELEC T100-L
Single drum wirelength system combined with load measurement system.
Real wire load indication calculated from load measurement in the winch brakes and/or hydraulic pressure sensor (for measurement with open winch brake).
MARELEC T100
Real wire load indicator with analog or digital indicator.
MARELEC D
Computerized wirelength & tension with indication on color screen.
Specifications:
Wirelength: 0-9999 m, precision 0,3%
Wirespeed: 0-9,9 m/s
Wiretension: 0-50-ton, precision standard < 1%
Load registration: up to 8 hours
Data output: NMEA 183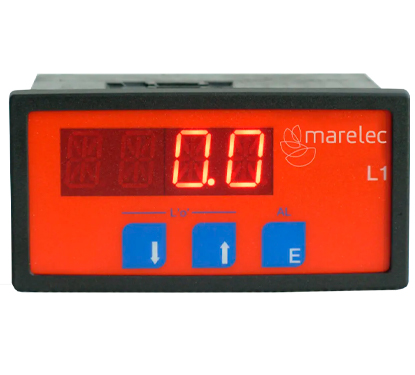 Want to know more?
Contact one of our specialists for more information or a quotation, they are more than willing to assist.