Sailor 6248 VHF
The SAILOR 6248 VHF is designed for all maritime work environments. In addition to the standard international maritime HF channels, it also includes special channel tables for USA, Canada and BI (For inland Waterways) incl. ATIS and ATIS 'killer', and as standard up to 100 private channels (P/F/L)
Designed and built to meet the non-class VHF needs of professional mariners, RT-6248 VHF is also rated waterproof to IPx6 and IPx8. With SAILOR quality, it can be relied upon in the most extreme conditions and because it is waterproof without modification, it can be used on open workboats or outside deck areas.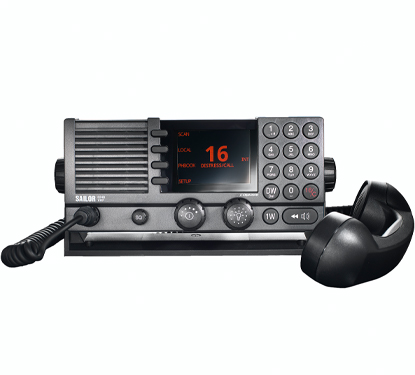 Highlights
High performance Rx/Tx Powerful 6W loudspeaker
Professional, high-quality SAILOR Handsets
Intuitive and easy operation High quality display – perfect night and day vision
Unique SAILOR Replay function – play back the last 240 sec.
Large tactile buttons and dials for easy operation
ThraneLINK for easy integration and maintenance
Inland Waterways with ATIS
Play it Again
The RT6248 VHF features the pioneering SAILOR Replay function, which records the latest incoming messages, making them available for easy playback. Clarify messages to improve vessel safety and operation by ensuring that messages are not lost, ignored or misunderstood, if the user was occupied in other operations.
Efficient Communication
As part of the SAILOR 6000 Series, SAILOR 6248 VHF Class A features ThraneLINK, a unique new system that enables efficient communication within the network. Engineers can access a vessel's network from a single point for lower maintenance and lifetime costs. The system also identifies new products in a network, making installation easier.
Find out more?
Contact one of our specialists for more information or a quotation!