Cobham SAILOR 6300 Radiotelephone
The SAILOR 6300 Series MF/HF DSC Class A radio telephone provides seafarers with the perfect solution for long range communication and emergency distress calling, enabling safe and efficient operations. Meeting GMDSS safety regulations, the SAILOR 6300 radio telephone can be used independently or as part of a complete GMDSS system.
Reply function
Engineered to withstand the harshest of marine environments, the robust systems of SAILOR 6300 radiotelephone feature a clear screen and large buttons for ease of use, plus certain models feature the pioneering SAILOR Reply function which records messages ensuring no important information or instructions are missed.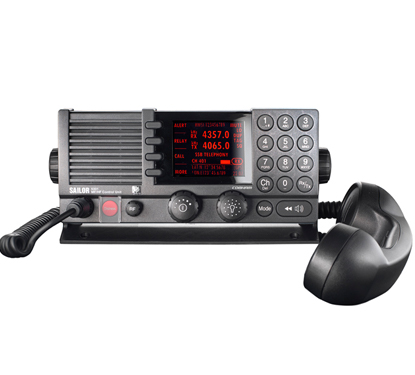 Features
Complies with mandatory safety requirements for vessels in all sea areas
Part of the innovative SAILOR 6000 GMDSS solution
Can easily connect with other critical systems such as SAILOR 6103 alarm panel
Operates in marine bands from 1.6 to 30 MHz in TX mode
SAILOR Replay – 240 second recording feature
High quality graphical display
6W internal loudspeaker for quality sound
Intuitive and easy to operate
Uses unique, next generation radiotelex software
Multiple control units
High Performance
A highly efficient power amplifier with control hardware ensures high performance and reliable communication in the marine bands from 1.6 to 30 MHz in TX mode, and ensures constant and full output power on all ITU channels.
Designed For Professional Mariners
The new SAILOR 6300 MF/HF is a high-end communications system and complies with the requirement for MF/HF DSC Class A. It is developed and designed to meet the needs of professional mariners ensuring clear and powerful communication for a wide variety of vessels.
Three different models
The SAILOR 6300 Series comprises of:
SAILOR 6310 MF/HF 150W DSC Class A
SAILOR 6320 MF/HF 250W DSC Class A
SAILOR 6350 MF/HF 500W DSC Class A
Want to know more?
Contact one of our specialists for more information or a quotation, they are more than willing to assist.