Seetrac Tender Tracking TT-109 S/K System
Seetrac Tender Tracking System: provides Real-Time Location and Identification of watercraft, as they operate around the yacht. Tender Status is provided on the main vessel, instantly alerting crew to alarms.
Plug and Play Tracking Kits
SOLO/DUO/TRIO and QUATTRO systems offer feature-rich performance, in a modern, robust package. The system comes complete with all necessary parts, pre-made cabling, connectors, and is configured to work "out of the box". Suitable for tenders and main vessels of any length.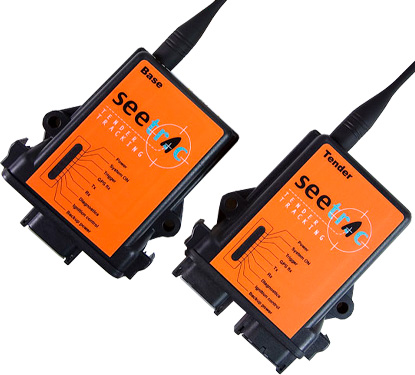 Features
PANIC: buttons on all tenders and jet-skis. Alarm is raised on the main vessel Charting System, and via relay output, integrates into main Alarm system
TOW-GUARD: an alarm will be raised if the tender tow rope breaks. Alarm relay output onboard, integrates into main Alarm system
Scout-ahead: Tender Depth is presented on the Main Vessel Chart system
Globe-trak: Using custom Skywave Inmarsat Satellite Transponders, Tenders are plotted direct to chart, as normal Seetrac targets. This ensures that no matter how far from the main vessel, they are never lost. Panic Alarm fully integrated. Web-login / Chart / Alarm Integration. Worldwide coverage. Flexible airtime packages