Furuno NX-300 NAVTEX Receiver
Economical – Paperless navtex receiver
The Furuno NX-300 receives NAVTEX messages and verifies the ID of received messages. It features two narrowband receivers, one tuned to the 518 kHz international Navtex frequency and the other to the 490 kHz domestic or local country frequency.
Every incoming message is identified, and new messages are read on the high-contrast 4.5" silver bright LCD screen, no paper is required. However, the message can be printed out via a PC interface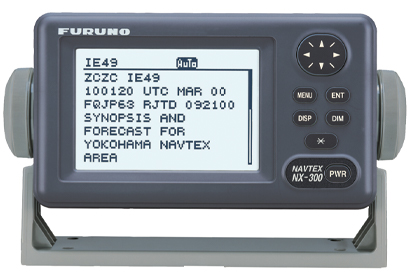 Highlights
Reliable, uninterrupted reception of Navtex messages
Designed for small boats and Fishing Vessels
No consumables or paper required
Ultra-clear 4.5″ backlit silver bright LCD
28,000-character memory capacity for message storage
Low power consumption
NAV Data Display mode
Multi-language menu
What is NAVTEX
NAVTEX is a worldwide coastal English language telex broadcast system. The broadcast stations transmit Navigational Warnings, Meteorological Warnings, Search and Rescue information and other data for ships sailing within their service range.
The service range is 200 to 400 nautical miles, depending on the terrain and station transmitting power. Messages are broadcasted every 4 hours. The NAVTEX service on 490 KHz is available in the UK, France, etc. using their own languages. The NX-300 features multi-language processing.
Want to know more?
Contact one of our specialists for more information or a quotation, they are more than willing to assist.