SAILOR 6391 Navtex System
The Cobham SATCOM SAILOR 6391 Navtex System consists of the SAILOR 6390 Navtex Receiver, which receives Navtex messages on the international Navtex frequencies (490 kHz, 518 kHz and 4209.5 kHz), and the SAILOR 6004 Control Panel, a 7" touch screen that provides excellent viewing clarity in all light conditions so all messages can be seen and understood.
As a black box system, with separate touch screen user-interface, it introduces a new approach that enhances safety and efficiency, while being fully SOLAS compliant. It is a next generation system that offers new installation and operation possibilities today, with the potential to become part of the fully networked bridge in the future.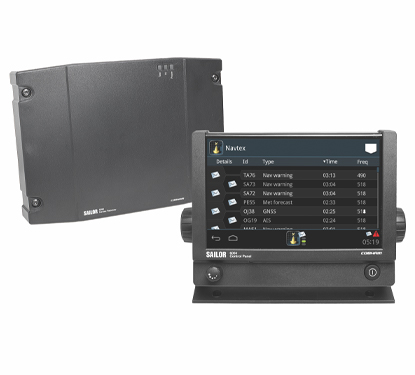 Choosing the SAILOR 6391 Navtex Systems gives you:
100% network integration – flexible installation options
Multifunction user friendly touch screen interface – works with different devices
Easy and cost-effective servicing and software updates
SOLAS compliance for Navtex messages – part of the SAILOR 6000 GMDSS Series
Future-proof – ready for bridge and communication system integration.
Included in system
SAILOR 6390 Navtex Receiver
SAILOR 6004 Control Panel
Power Cable
Mounting Bracket
Mounting Srews
Flush Mount Kit
Installation Guide
Test Sheet
ThraneLINK Enabled
Want to know more?
Contact one of our specialists for more information or a quotation, they are more than willing to assist.