Proven Fleetbroadband Technology
Inmarsat FleetBroadband provides cost-effective broadband data up to 432 Kbps and voice simultaneously through a compact antenna on a global level. Based on the BGAN network using 3G standards, FleetBroadband provides you with a seamless broadband connection utilizing Inmarsat's I-4 satellite constellation. With FleetBroadband you can access email, surf the web and run operational systems remotely, while our solutions enhance the service with cost-effective tools for your daily communication and administration needs.
Benefits
Simultaneous voice & data communications
High throughput speed up to 432 Kbps for seamless broadband connection
Up to 9 simultaneous telephone calls with Inmarsat Multi-voice service
Reliable equipment with a range of performance capabilities
Compatible with many crew welfare applications
Small terminals and compact stabilised antennas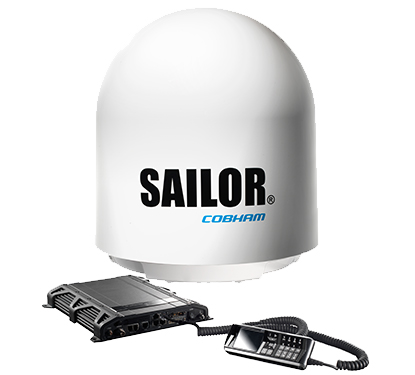 Features
Enjoy faster & more cost-effective data: You can access email, surf the web and run operational systems remotely at the same time as making phone calls.
Standard IP: up to 432 Kbps over a shared channel, for email, Internet & intranet access and remote maintenance
Streaming IP: guaranteed on-demand data rates of up to 256 Kbps for live video/audio applications and 8 kbps and 16 kbps for voice over IP (VoIP) applications
Voice: up to 9 simultaneous voice lines for bridge and crew communication
ISDN: supports ISDN at 64 kbps for legacy applications
SMS: send and receive 160 character text messages
Coverage: available globally, except in polar regions
Featured products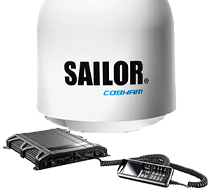 Cobham
SAILOR 500 FleetBroadband
SAILOR 500 FleetBroadband is the Flagship of our market leading Inmarsat FleetBroadband portfolio and is designed to meet the voice and data communication needs of maritime professionals globally.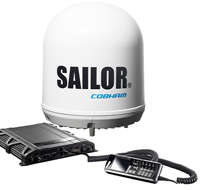 Cobham
SAILOR 250 FleetBroadband
SAILOR 250 FleetBroadband is a compact system designed to provide performance and power at the right price point for a wide variety of vessel types.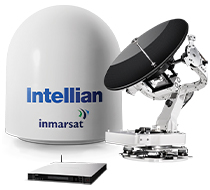 Intellian
GX-60 VSAT Ka Band
The Intellian GX-60 is a compact maritime stabilized terminal ready-to-use on Inmarsat's high speed, Global Xpress (GX) broadband service.