Radio Zeeland DMP is a manufacturer of qualitative, innovative and aesthetic maritime electronics. The company offers the complete solution for the inland shipping, yachting, shortsea and offshore markets.
Radio Zeeland DMP started in 1970 as a repair center for navigation and communication products. Over time the need for reliable and high-quality inland navigation products became clear. This triggered the focus on the development and production of navigation equipment for the inland shipping market. The core of the Radio Zeeland DMP portfolio is its own Rate of Turn gyro, which is complemented with a display instrument and several autopilot options.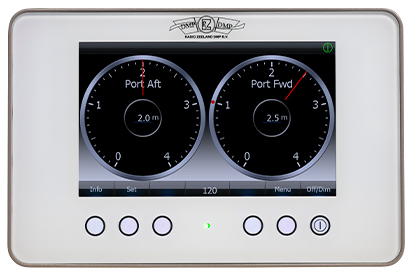 User-friendly operation
By adding an echo sounder for shallow waters and other equipment, several complete product lines were created, with a specific focus on design, quality and user-friendly operations.
Radio Holland Netherlands is the European distributor for the Radio Zeeland DMP Inland Shipping product portfolio.
Over time, Radio Zeeland DMP has also accumulated experience as an OEM manufacturer. It offers development and production for all kinds of equipment used in the maritime industry, from engine control panels to (S)VDR and DP systems, with the familiar core values of Radio Zeeland DMP evident: design, quality and user-friendly operations.