Furuno Felcom-18 Inmarsat-C Terminal
The Furuno Felcom-18 Inmarsat-C is a mobile Earth Station that provides a high-quality two-way telex and data link between ships and other parties at sea or on land. All functions and services of the Inmarsat-C system are provided: EGC (Safety NET/FleetNET), distress message handling, two-way digital store-and-forward messaging including polling, data reporting, E-mail, etc. Distress alert are initiated by the remote distress alert unit. The distress message including own ship's position is easily edited.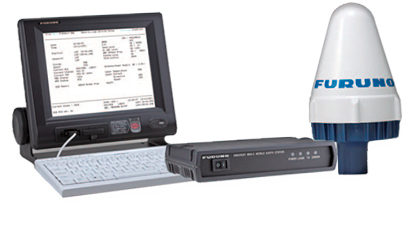 Key Features
Inmarsat-C Mobile Earth Station terminal for GMDSS application
Full GMDSS compliance with optional printer and AC/DC power supply
SSAS capability with SSAS Alert Unit
Compatibility with LRIT application
A wide variety of communication schemes available: telex, FAX, emailing, EGC, data reporting/polling, etc.
SD card for recording media
FELCOM18 does not output GPS data – an optional internal GPS engine is available
Specifications
The Furuno Felcom-18 Inmarsat-C consists of an antenna and display unit with keyboard. The display unit embodies a 10.4″ color LCD and processor unit. The distress alert button is incorporated in the display for emergency. Data files and utility program on SD Memory Cards are easily loaded into the processor through the front-loading card slot in the display unit.
The compact design of display unit and Omni-directional antenna unit offer space-saving installation. An optional GPS module is available for position reporting without operator's intervention. GMDSS compliance can be achieved by adding a printer and an AC/DC power supply unit.
Want to know more?
Contact one of our specialists for more information or a quotation, they are more than willing to assist.