Cobham SAILOR 6110 MINI-C GMDSS
SAILOR 6110 mini-c GMDSS System is the first system to be the world's most powerful, user-friendly and reliable satellite transceiver system for all ship tracking, monitoring, messaging and distress communications. SAILOR 6110 mini-C GMDSS provides GMDSS, SSAS and LRIT. The SAILOR 6110 mini-C is a true next generation GMDSS solution. Building on the strong foundation of previous SAILOR GMDSS products, it introduces innovative new features and functionality, including touch screen operation through the cutting-edge SAILOR 6018 Message Terminal and an all new approach to installation and networking.
The TT-00-406110A-00551 SAILOR 6110 mini-C is more than just a way to meet mandatory GMDSS requirements, because as part of the innovative SAILOR 6000 Series, it is an integral part of a vessel's communication system. The mini-C system features true triple functionality as it safely handles all GMDSS, SSAS and LRIT operation on board.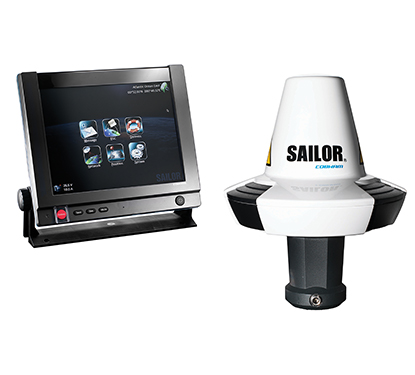 SAILOR 6110 Features Include:
First ever approved touch screen terminal for GMDSS use
External storage via SD card or USB disk
Innovative approach to cabling for simple networking and expansion
Accurate, reliable 50 channel GPS module that is also Galileo ready
ThraneLINK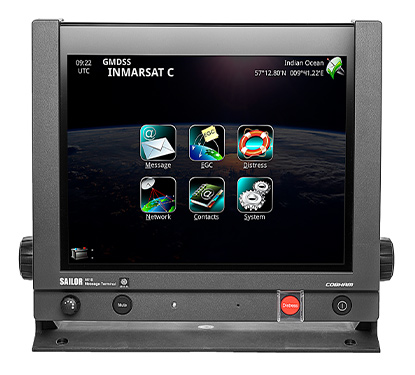 Cabling Innovation and Touchscreen Operation
SAILOR 6110 mini-C GMDSS uses CAN-BUS (NMEA 2000) and RJ45 cabling, and it comes with all required cables (30m) out of the box. It is ready to go straight away and expanding it is easier and less costly than with traditional cabling. This flexibility also reduces installation and maintenance costs.
Operation is performed via the new SAILOR 6018 Message Terminal, , which stands out as the world's first touch screen, Wheelmarked GMDSS terminal. The multimedia style interface is user-friendly, which in turn ensures the safe operation of the vessel's IMO safety and tracking systems.
Efficient Communication: Reliable and Accurate
As part of the SAILOR 6000 GMDSS Series, SAILOR 6110 mini-C GMDSS features ThraneLINK, a unique new system that enables efficient communication within the network. Engineers can access a vessel's network from a single point for lower maintenance and lifetime costs. The system also identifies new products in a network, making installation easier.
SAILOR 6110 mini-C GMDSS has a brand-new transceiver design and operates using a 50 channel GPS module and high gain omni-directional antenna. Sailor 6110 ensures accurate satellite fix and position even under adverse conditions. There are no condensation issues and rugged build quality ensures reliable, accurate and continuous operation.
Ask Us for More Information?
Contact one of our specialists for more information or a quotation!