Radio Zeeland MultiHub Smart Connector
The MultiHub combines various signals into one. Signals on the NMEA bus are concentrated on the NMEA output and this information is made available via Ethernet. The same happens with the signals on the CANbus inputs. Signals distributed on the Ethernet and intended for the sensors connected to the NMEA or CANbus inputs are also made available on the NMEA output and/or the CANbus output. Through the web interface one can choose which signals to route to which ports to obtain optimal flexibility.
MultiHub as Ethernet switch
The MultiHub also works as an Ethernet switch which makes it possible to connect multiple devices to this MultiHub and one can also connect MultiHubs together.
The MultiHub uses ethernet, NMEA0183 and NMEA2000 signals. It also takes care of multiplying several signals, upgrading of a NMEA signal to a higher level of smart communications (ethernet). The MultiHub is designed according to the IEC60945 norm.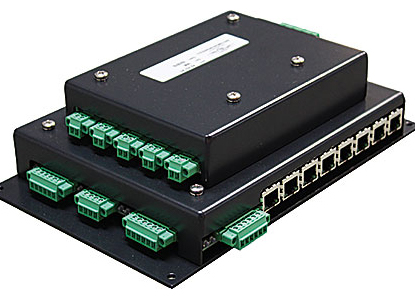 Find out more?
Contact one of our specialists for more information or a quotation!