Radio Zeeland titan 550 Autopilot
The Radio Zeeland Titan 550 operating unit is one of the Radio Zeeland DMP autopilots. Along with the P-503 junction box, the TITAN-100 rudder angle indicator and an optional TITAN-300 rate of turn indicator, the TITAN-550 is a complete autopilot set. This system has the unique possibility to be connected to any approved Rate of Turn Indicator, by use of the P-503 Junction box and P-100 Sensor.
In some cases, it is desirable to expand your pilot with either extra indicators or repeaters, this all lies within the possibilities with the TITAN-550. Whether it's one or more additional TITAN-550 or TITAN-650 devices, your wheelhouse will be expandable in numerous ways when installing the TITAN-550 autopilot.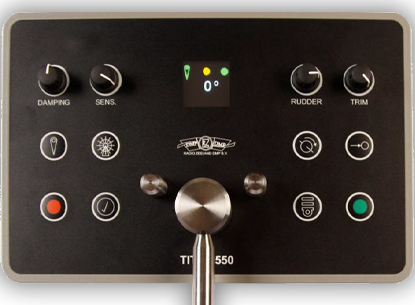 LCD Display with colored lighting
The buttons and indicators of the TITAN-550 are illuminated with EL- backlighting. The TITAN-550 is fitted with a dimming system, which can be synchronized with the rest of the Radio Zeeland DMP system.
The small LCD display provides a digital read out of the rudder angle, alarms, functions and indications. This ensures a quick and orderly overview of the provided data.
Want to know more?
Contact one of our specialists for more information or a quotation, they are more than willing to assist.