Radio Zeeland Titan 1000: Fast & Bright Multifunctional Display
The Radio Zeeland TITAN 1000 unit is a multifunctional display with embedded software for various types of navigation equipment for the commercial shipping industry. Sensors connected to a network are read out and translated to the display with help of a MultiHub. The TITAN-1000 enables captains to swap functions between different displays, making the cockpit rearrangeable at all times.
The Radio Zeeland TITAN 1000 can also be connected directly to the Sensors as stand-alone unit. The use of a network to transmit data from the sensors to the display unit creates the possibility to add as much display units as desired. As the TITAN-1000 has various software pages pre-programmed, it is extremely suitable for wheelhouse expansions. The sensor data can also be sent directly to the TITAN-1000 through NMEA signals.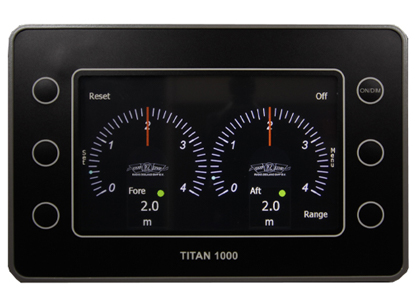 Dimming
Within the Radio Zeeland TITAN 1000 unit lays the possibility to issue multiple dim groups, which allows the user to dim multiple displays at the touch of one button or put them into the night view mode.
Display possibilities
TITAN-100 Rudder angle indicator,
TITAN-120 Echo sounder,
TITAN-130 Wind station,
TITAN-300 Rate of turn indicator,
TITAN-345 Compass,
TITAN-500 Pilot.
These software indicator pages are programmed by standard on a TITAN-1000:
Want to know more?
Contact one of our specialists for more information or a quotation, they are more than willing to assist.