SAILOR 100 GX 1m Ka-Band System
The Sailor 100 GX features an advanced Tracking Receiver technology, that enables it to verify the right satellite in less than a second. This unique feature, tried and tested in the benchmark SAILOR Fleet Broadband systems, ensures quick satellite acquisition at start-up and re-acquisition of the satellite in case of temporary blockage, after bad weather or poor signal strength.
Quick and Easy to Deploy
SAILOR 100 GX is light and compact. It uses a single cable between antenna and below deck equipment for RF, power and data, while advanced features such as Automatic Azimuth Calibration (home flag) and Automatic Cable Calibration significantly reduce installation time further. The unique Global Xpress One-Touch Commissioning feature completes the package, making SAILOR 100 GX incredibly easy to deploy.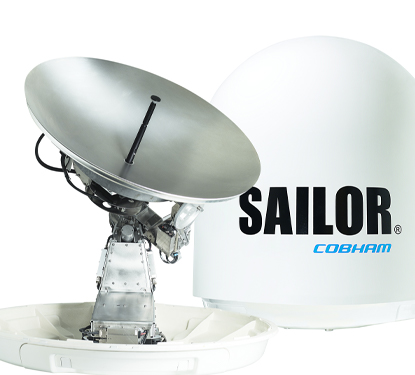 Re-Defining Maritime Broadband
SAILOR 100 GX gives you a reliable access to the full range of Inmarsat Global Xpress global high-throughput satellite services so you can enjoy the power of broadband for business applications, vessel operations, and crew welfare. The system is designed and tested to the highest maritime shock and vibration requirements to ensure reliable service and the longest possible life at sea.
Remote Access and Diagnostics
In order to offer the best support to system integrators, SAILOR 100 GX offers several features for remote access and remote diagnostic, including monthly statistics logging, SNMP traps, and Syslog functionality. These remote maintenance features are supported by Cobham SATCOM's worldwide network of On-board Service Centers.
Included in System
407009C Above Deck Unit (ADU), incl. 103cm reflector, 5W BUC, LNB,
Mounting Accessories.
407016C Antenna Control Unit (ACU), AC Powered for 19″ rack mounting
(1U).AC Power cord.
NMEA Multi-plug.
2x 1m 75 Ohm coax cable TX/RX ACU-VMU.
Ethernet cable.
407023A GX Modem Unit (GMU) for 19″ rack/cabinet mounting (1U).2x RS-232/RS-422 serial cable.
1x 115/230VAC Power cord.
Ask Us for More Information?
Contact one of our specialists for more information or a quotation!