SAILOR 600 VSAT Ka Band: Small, Light and Advanced Antenna System
The SAILOR 600 VSAT Ka is the smallest, lightest and most advanced 3-axis stabilized Ka-band antenna system for the Europe only THOR 7 High Throughput Satellite (HTS) satellite network from Telenor Satellite Broadcasting (TSBc). Based on a unique, cutting-edge composite/aluminum design to keep weight down and sophisticated SAILOR VSAT technology for unmatched performance and features, SAILOR 600 VSAT Ka streamlines the deployment process and maximizes operational uptime.
Super Light, Super Rugged:
SAILOR 600 VSAT Ka is built to withstand the toughest sea conditions and still deliver high bandwidth connectivity on THOR 7. It is the fastest tracking antenna available in its size class, with superior dynamic performance in all axes; roll, pitch and yaw. This high performance means that smaller vessels more affected by rough seas can make the most of THOR 7 services, as SAILOR 600 VSAT Ka can maintain a strong link in extreme conditions (like those found in the North Sea), even on the edges of the beams.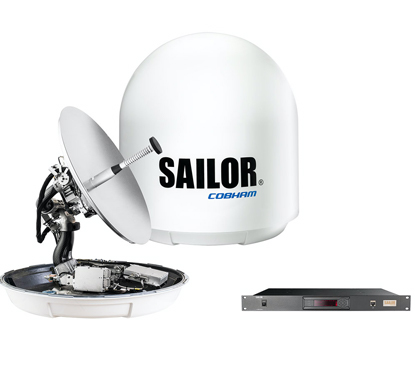 A simple Revolution in VSAT Deployment:
SAILOR 600 VSAT Ka simplifies the once complex process of VSAT antenna procurement and installation. This saves time and money. Cobham SATCOM has achieved this revolution not through a single design breakthrough, but with a wealth of features and design details unique to the SAILOR VSAT technology platform.
Re-Defining Maritime Broadband
Integrating SAILOR 600 VSAT Ka with the iDirect X7 Satellite Router is the smartest, most cost-effective way to access ground-breaking new high throughput satellite (HTS) services on THOR 7. Higher speeds, more reliability and class-leading installation time and cost savings, means this combination of state-of-the-art hardware and next generation services offers the ultimate support for business applications, vessel operations and crew welfare.
Streamlining Remote Access and Diagnostics:
Just like all other SAILOR VSAT systems, the SAILOR 600 VSAT Ka is incredibly easy to manage ensuring that service providers can offer the best possible support to customers anywhere in the world. Easy remote access and diagnostic features include monthly statistics logging, SNMP and built-in e-mail clients that automatically email historical logging of system performance.
Included in System
407006B Above Deck Unit (ADU), incl. 65cm reflector, 5W BUC, LNB,
Mounting Accessories.
407016C Antenna Control Unit (ACU), AC Powered for 19″ rack mounting
(1U).AC Power cord.
NMEA Multi-plug.
2x 1m 75 Ohm coax cable TX/RX ACU-VMU.
Ethernet cable.
Want to know more?
Contact one of our specialists for more information or a quotation, they are more than willing to assist.