Furuno DFF3 Black Box Network Sounder
Furuno DFF3 is a network sounder featuring Furuno Digital Filter (FDF) Technology designed for use with NavNet series devices. This digital Network Sounder can turn any NavNet display into a powerful, dual-frequency digital fish finder.
The compact network sounder unit connects directly to a NavNet display or an Ethernet hub with a single Ethernet cable. If it is connected to an Ethernet hub that has multiple displays attached, each of those displays will have access to the Network Sounder.
Features
Utilizes FDF (Furuno Digital Filter) signal processing technology
Furuno Free Synthesizer (FFS) allows for selectable operating frequency of 28 to 200 kHz
Dual frequency, alternate transmission
Compatible with Airmar transducer ID technology
Heaving compensation with use of the SC-30/50/110
Variable Transmission Rate for different depth ranges allows for more detailed observation of bottom
Dedicated 6-pin temperature sensor port available
WAGO connection for ease of installation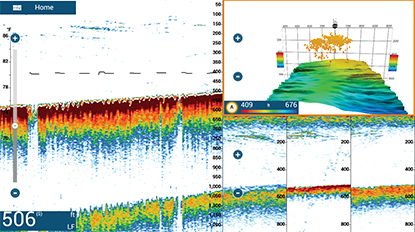 Furuno Digital Filter Fish Finder
Furuno Digital Filter (FDF™) Fish Finders feature advanced filtering capabilities and digital auto tuning, which eliminates noise. Furuno FDF Fish Finders deliver the ability to spot individual fish with clarity, accuracy and detail. Whether in shallow or deep water, Furuno FDF Fish Finders give you what you would expect from a Fish Finder at all times.
Know More About the Fish Under Your Boat
Furuno's award winning network Fish Finders offer a unique fish size analyzer function, ACCU-FISH™. The ACCU-FISH™ algorithm analyzes echo returns to compute individual fish size and display it on the screen.
Ask Us for More Information?
Contact one of our specialists for more information or a quotation!