TruEcho CHIRPTM meets Split Beam technology
The FCV 2100 is the commercial fisherman's dream machine! By combining Split Beam technology with Furuno's TruEcho CHIRP™, we have simultaneously improved fish size measurement accuracy and achieved higher-resolution target images. This makes it easier to discern fish outlines in order to detect fish size in densely packed shoals within the mid-surface layer zone, or to discriminate single fish near the seabed. Utilizing the fish distribution display, you will be able to see the targeted fish's position and movement. Fish echoes from the three latest scans are displayed and a color circle indicates the strength of the individual fish echo.
Simplified operation
The FCV 2100 can be operated easily and quickly with its trackball. The screen header also contains Range, Shift, Sensitivity, Image Feed, and Display Mode menus that can be immediately accessed when required. Other functions can also be accessed immediately by setting them in the InstantAccess Bar™ as desired*.
* Up to 10 icons can be set in the InstantAccess bar™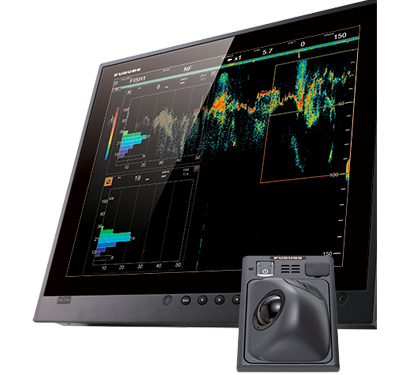 Highlights
Simultaneously displays fish size in three locations
Simple operation
Checking past images with scroll-back mode
Can be connected to an external fish finder (DFF3/DFF1-UHD network fish finder)
Easy to install compact transducer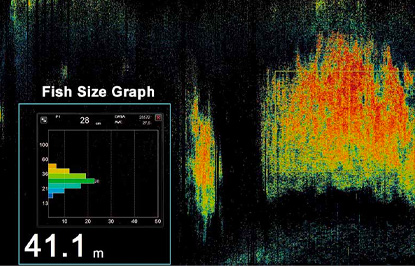 Display remarkably accurate fish size measurements
The FCV 2100 measures the size and distribution of fish in the selected school, and displays this information in a graph that can be understood at a glance. TruEcho CHIRP™ technology has improved the accuracy and reliability of fish size measurements and graphs. (Fish length is a reference value calculated from reflection intensity.)
You can measure and display fish sizes in three locations at the same time. This allows you to compare and analyze fish size and school composition, which makes for more efficient fishing, such as aiming for fish of a particular size.
Want to know more?
Contact one of our specialists for more information or a quotation, they are more than willing to assist.