Furuno FCV-295 10.4″ Color LCD Sounder
The Furuno FCV-295 is a color digital sounder designed for a variety of professional fishing operations. It features a bonded 10.4" LCD display providing superior viewing even in direct sunlight. The Furuno FCV-295 sounder displays echoes in 8, 16, or 64 colors, with color assignment dependent on the strength of the returned echo.
White Edge
The White Edge function enhances the discrimination of bottom fish and seabed by painting a very thin line above the bottom contour regardless of gain settings or display color.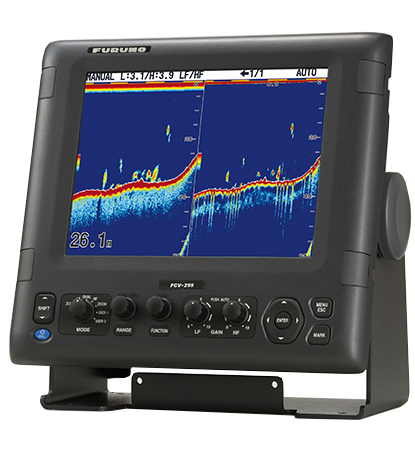 Features
10.4″ bonded color LCD provides clear view in any weather condition
Post-processing gain control applies to all existing returns on the display
White Edge function trace the bottom contour with a thin white line
Furuno Digital Filter delivers crystal clear target presentation
Furuno Free Synthesizer allows adjustable operating frequency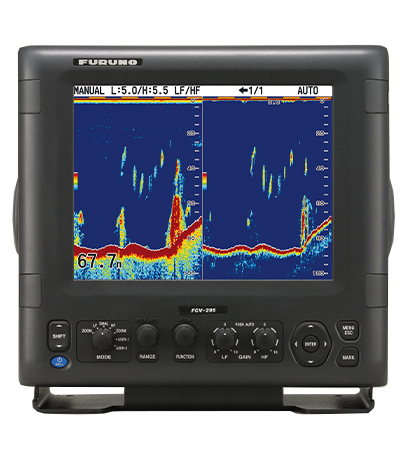 Digital filter of Furuno FCV-295 Sounder
The Furuno digital filter optimizes the gain to obtain highly defined images of underwater conditions. The Furuno FCV-295 sounder can clearly show target fish close to the seabed. The digital filter also eliminates noise to deliver sharp and detailed echo presentation, achieving detection of fishing reef and even individual fish with absolute clarity
Furuno Free Synthesizer
The Furuno Free Synthesizer (FFS) Transceiver allows a wide selection of operating frequencies. You may choose any two frequencies between 28 and 200 kHz to fit your fishing operation. Output power is selectable from 1, 2 or 3 kW. A wide variety of display modes and functions are available, which provide skippers with simple and intuitive information.
Want to know more?
Contact one of our specialists for more information or a quotation, they are more than willing to assist.