AIS for Inland Shipping
The Furuno FA-170 Inland AIS (Automatic Identification System) transponder is designed to improve navigation safety by observing other AIS equipped vessels. The FA-170 (inland version) can provide you with a solution for open sea cruise and inland navigation. It complies with relevant international regulations and standards as well as international class requirements and inland AIS requirements.
The Furuno FA-170 Inland AIS can be interfaced with Radar and inland ECDIS, allowing AIS information to be displayed. For inland use, the FA-170 has the Blue Sign port.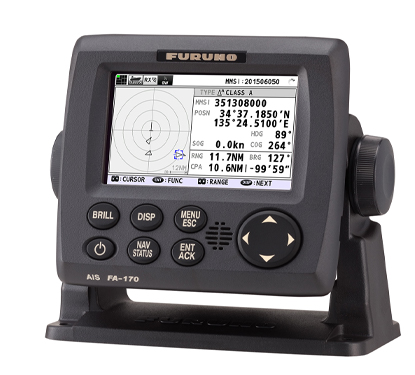 Furuno FA-170 Inland AIS At a Glance:
Class A AIS transponder
Clear 4.3" color display
Displays information about the AIS-equipped ships, as well as coastal stations and Aids to Navigations within VHF coverage
Outputs AIS date to ECDIS, radar and other navigational equipment for collision avoidance support
Sufficient output ports for dual configuration of ECDIS and radar system
LAN interface available for efficient network integration into a bridge system
Bridge Alert Management (BAM) ready
Meets the specific requirements for alerts and interconnection with BAM as specified in IMO MSC.302 (87)
Optional pilot plugs available
Receives AIS-SART signals for assisting in streamlining SAR activities
Want to know more?
Contact one of our specialists for more information or a quotation, they are more than willing to assist.