Radio Zeeland Titan 120
The Radio Zeeland TITAN 120 is an echo sounder set and operates with the junction box P-120 and a transducer. The echo sounder can be set to 0-4 and 0-40 meters. Between 0 and 4 meters an alarm can be set to warn the operator if the depth reaches the preset minimum.
The TITAN-120 Echo sounder is specially designed to operate in shallow waters, making it the ideal depth sounder for the commercial inland shipping industry. The information is displayed on an analogue and a digital indicator. Because the TITAN line can be connected to a network based and wired system, it has the unique possibility to use analogue and digital devices next to each other.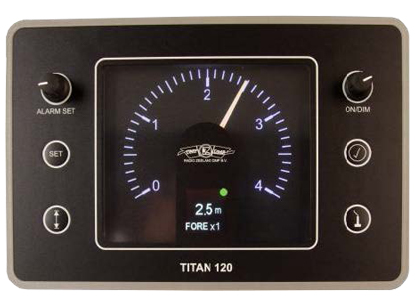 Sensors
The TITAN-120 system operates with a P-120 smart depth sensor interface box and a depth transducer. With use of a built-in filter, the P-120 filters out the disruptions of air bubbles, making it possible to indicate with an analogue gauge.
Dimming
The TITAN-120 display unit can be dimmed synchronized with the rest of the Radio Zeeland DMP display system.
Colored lighting
The scale of the Radio Zeeland TITAN 120 display unit is illuminated with LED- backlighting. The color of the lighting can be set to three different colors, Red, Yellow or Blue, creating a night view adjustable to personal preferences.
Shallow waters and wake
The Radio Zeeland TITAN 120 is specially designed to operate in shallow waters. The transducer of the TITAN-120 is accurate up to 0,3m under the hull, where other depth sounders have inaccurate measurements up to over one meter below the hull. The TITAN-120 is accurate even in the wake of another vessel.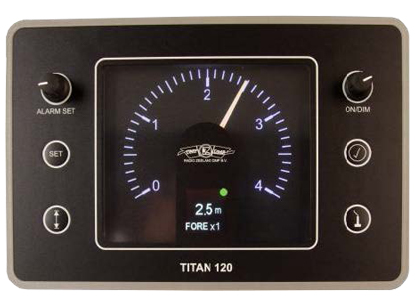 Want to know more?
Contact one of our specialists for more information or a quotation, they are more than willing to assist.