Sea Tel 9711 IMA VSAT
The Sea Tel 9711 system with 2.4m radical offset reflector is Cobham's most efficient C-band or Ku-band marine stabilized antenna system and is available in 144″ or 168″ radome. The Sea Tel 9711 Ku-band system works with co polarized (co pol) or cross polarized (X pol) services which are also remotely selectable.
The C-band configuration of the 9711-antenna system operates on C-band A Pol, C-band B Pol or C-band linear all controlled from the DAC 2202. This eliminates the need for a technician to climb into the radome and manually change the feed. The switch over from one polarization to another can be accomplished in less than one minute.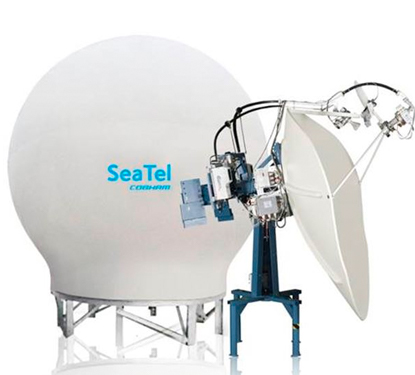 Features and Benefits
For C-band: circular/linear selectable feed allows automatic switch-over from circular to linear operation
For Ku-band: operate on co pol or X pol satellites
Fast switching time between networks: less than 1 minute
Fully compatible with ABS protocol
Designed to meet MIL-STD-167 specifications for shock and vibration
Designed to meet Navy MIL-STD-901D Grade B shock standards and MIL-STD-461 EMI & RFI standards (including 200V/M).
Fast satellite acquisition using built-in GPS antenna and proprietary algorithms
High performance stabilization and satellite targeting, including inclined orbit satellites
Available with air conditioner (optional)
Innovative Technology
The Sea Tel 9711 IMA VSAT system is fully compatible with Automatic Beam Switching (ABS) technologies. By combining multiple option files in a single modem, the user can make near seamless transitions from C-band circular A Pol to B Pol to C-band linear or from Ku-band co pol to cross pol.
The 9711 technology uses Generation 2 electronics in the pedestal control unit. This is the same reliable electronics used on XX09MK2 and XX10 series antenna systems, eliminating an external level cage, and combines the software-controlled motor driver assembly for better diagnostics and improved troubleshooting capabilities on all 3 axes.
Want to know more?
Contact one of our specialists for more information or a quotation, they are more than willing to assist.