Intellian v240M Gen-II Multi-Orbit and Dual-Band 2.4m VSAT Antenna System
The intellian v240M Gen-II is the world's first and only Multi-orbit and Dual-band antenna systemthat enables communication services in two different frequency bands and tracks Geostationary Earth Orbit (GEO) and Medium Earth Orbit (MEO) satellites.
Superior Flexibility
The Intellian v240M Gen-II has the capability of switching between two satellite frequency bands. It allows automatic switching between C- and Ku-band without user intervention. This enables the operator to select the optimum solution for the geographic location.
The v240M Gen-II isn't just designed for the present but is fully prepared for the future networks as they come online. To provide greater flexibility of space segment selection, the Ka-band upgrade kit allows the addition of Ka-band communication. The Intelligent Mediator enables MEO operation on the v240M Gen-II combined with the Ka-band upgrade. The v240M Gen-II is prepared to operate using Future Satellite Networks.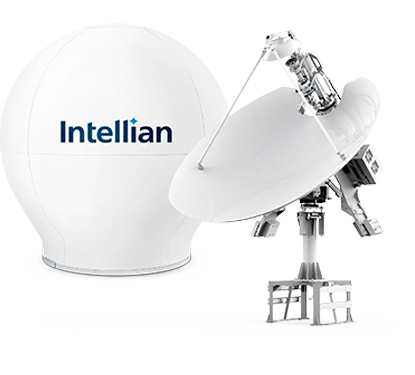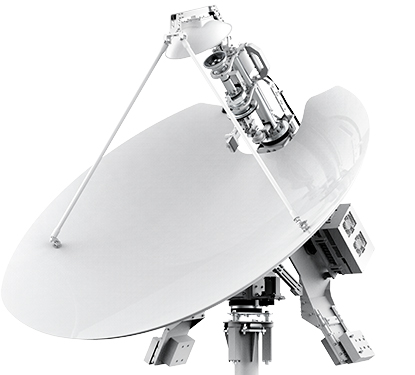 True 2.4m Multiband Performance
Brilliant RF design result in maximized RF gain for 2.4m reflector and assures consistent RF performance on both C- and Ku-bands. Furthermore, the v240M Gen-II is designed to increase throughput significantly and features high-power BUC options up to 400W in both C- and Ku-bands. These kinds of applications enable high-speed, high-quality connectivity for high bandwidth demanding users.
Staying connected at sea is important for crew and guests. The v240MT Gen-II provides the level of connectivity you might expect when onshore. Allowing enterprise apps and business applications to run the operations of the vessel, while still being able to provide for crew and guests welfare.
Multi-band & Multi-orbit technology is the most suitable choice for the cruise and Energy industries, providing the highest levels of connectivity and performance.
Features
Automatic Frequency Band Wwitching
Auto switching electronically between C-band operation and Ku-band operation.
C-band circular & linear switchable Feed and Ku-band cross & co-pol switchable feed.
 Supports BUCs from 25W to 200W
Adjustable mounting bracket and flexible waveguide design makes mounting any BUC simple.
Saves additional installation cost and integration time by receiving a pre-configured antenna system.
 Ka-band Upgrdable
The Ka-band upgrade kit allows the addition of Ka-band communication.
The Intelligent Mediator enables MEO operation on the v240M Gen-II combined with the Ka-band upgrade.
 Optional Intelligent Mediator
Automatic switching between networks, satellites, orbits and, provides support for Dual Data Centers.
Enable NGSO operation by smart handover and antenna role change.
 Optional Dual Modem Mediator
Ideal for redundant modem environments.
Enables use of separate modems for C- and Ku-band.
 Fiber Link Module
Connects the antenna to the ACU using a single fiber optic cable with no signal loss up to 2000m.
Simplifies installation by providing more flexibility of mounting locations.
 Global Support
Over 300 Intellian Service and Support centers around the world.
 3 Year Global Warranty
Industry leading 3-year parts and workmanship guarantee with a 2-year labor warranty for all antenna systems, ensuring peace of mind with your hardware investment
The new warranty policy (3-year parts and 2-year labor) is only valid for products purchased after 1st, January 2017
Want to know more?
Contact one of our specialists for more information or a quotation, they are more than willing to assist.