Sea Tel 9711 TxRx VSAT
The Sea Tel 9711 TXRX VSAT system provides you with two-way satellite voice data broadband communications while underway on an ocean-going vessel. This can be used to provide a wide variety of telephone, fax and high-speed data applications. Your antenna system can transmit to and receive from any desired C-band satellite which has adequate signal coverage in your current geographic area. This input will be distributed to your satellite modem and then to all your other below decks computer, fax and telephone equipment.
The Sea Tel 9711 TxRx VSAT system with 2.4m radical offset reflector is our most efficient C-band or Ku-band marine stabilized antenna system. It is Intelsat approved. The 9711 is available in 144″ or 168″ radome.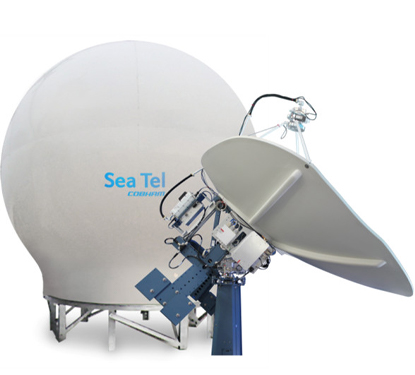 Features & Benefits
For C-band: circular/linear selectable feed allows automatic switch-over from circular to linear operation.
For Ku-band: operate on co pol or X pol satellites.
Fast switching time between networks: less than 1 minute.
Fully compatible with OpenAmip, ROAM, and ABS protocol.
Designed to meet MIL-STD-167 specifications for shock and vibration.
Designed to meet Navy MIL-STD-901D Grade B shock standards and MIL-STD-461
EMI & RFI standards (including 200V/M).
Fast satellite acquisition using built-in GPS antenna and proprietary algorithms.
High performance stabilization and satellite targeting, including inclined orbit satellites.
Available with air conditioner (optional).
Above-decks & Below-decks
The Sea Tel 9711 TXRX VSAT system consists of two major groups of equipment: an above-decks group and a below-decks group. Each group is comprised of, but is not limited to, the items listed below. All equipment comprising the Above
Decks is incorporated inside the radome assembly and is integrated into a single operational entity. For inputs, this system requires only an unobstructed line-of-sight view to the satellite, Gyro Compass input and AC electrical power.
Above-Decks Equipment group
Stabilized antenna pedestalAntenna Reflector
Ku-Band Feed Assembly with LNB(s)
Ku-Band RF Equipment which may include C-Band High Power Amplifier(s)
Radome Assembly
Below-Decks Equipment Group
Antenna Control Unit-Splitter with desired number of outputs (one output to the ACU and one output to the Satellite Modem are required).
Satellite Modem and other below decks equipment required for the desired communications purposes.
Spectrum Analyzer (Optional)
Control, RF and Other cable connections