Skipper Echo Sounder GDS 101
The SKIPPER Echo Sounder GDS 101 is a navigation equipment with a large, high resolution color LCD display. The Echo Sounder graphics are continuously shown on the LCD along with complete navigational details. External connectors are provided for printer, VGA and NMEA in/output.
It is possible to connect an external printer to the operator unit. The sounder contains a 24-hour history memory that can be printed out. Depth, time and all available navigation data are stored continuously so that the last 24 hours of information is always available. All this information may also be printed on the external printer. All IMO requirements are met or exceeded. Comprehensive interfaces are available including IEC 61162-1:2007(E) (NMEA 0183) inputs and outputs.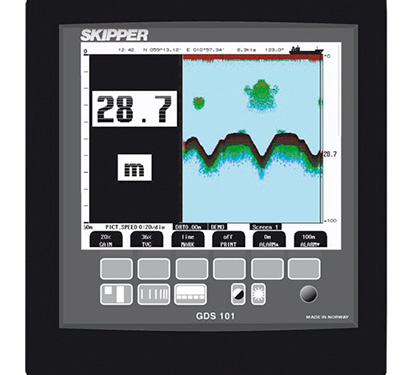 Features
Single frequency 38, 50 or 200 kHz
Color TFT LCD, with Day/night screenData in/outputs and - Analog outputs.
Possibility for external printer
Low and high frequency
More than 1-month depth recording depending on Compact Flash memory card
A Wide Range of Transducers
The Skipper echo sounder GDS 101 has 3 transducer connections as standard with resonant frequencies of 38, 50 and 200 kHz. Only one can be shown on the display at a time, by choosing the corresponding transducer in the menu. A wide range of transducers are available to fit vessel requirements. All IMO requirements are met or exceeded, and most standard interfaces are available.
Want to know more?
Contact one of our specialists for more information or a quotation, they are more than willing to assist.