Tresco ECDIS Viewer Inland
Tresco Inland ECDIS Viewer is a computer and GPS aided Chart Information and Navigation package especially designed for inland shipping. By connecting a GPS or D-GPS receiver your ships position will be continuously shown on the electronic Inland ECDIS chart.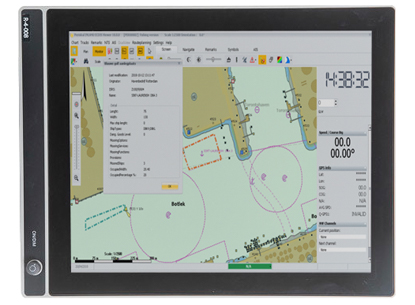 Periskal Viewer with Route Planner
The Periskal Inland ECDIS Viewer is used on more than 6000 inland vessels in Europe. Inland navigation on European rivers and canals is the absolute specialty of Periskal.
Periskal Inland ECDIS Viewer perfectly fulfills all the standards for "Inland ECDIS S-57" drawn up by the Rhine and Danube Commission and the new obligation to have a chart system on board on the Rhine. The GPS shows the exact position of the vessel on the chart.
AIS Module
This option allows you to show the other ships on the map that have an AIS transponder on board. The module consists only of software, so it is necessary to connect an AIS transponder or an AIS receiver. All information processed in the AIS signal is shown on the map. This includes ship dimensions, name, call sign, Europe number, cargo, destination, etc.
Dredging and Fishery Version
This option is intended for dredging and fishing where special functions have been added. Some features of the Dredging version: the possibility to connect a 2nd DGPS to determine the presence of the vessel, the possibility to communicate with a 2nd system on board, e.g. in the crane, so that the position of the crane and the presence of the vessel can be exchanged between both systems and many more additional functionalities
Ask Us for More Information?
Contact one of our specialists for more information or a quotation!