Entel HT Series Firefighter Porto
Entel's HT series firefighter portables comply with the new SOLAS regulations.
Rugged, designed for gloved hand use and with exceptionally loud audio, Entel's HT Commercial Marine portable radios are specifically designed to withstand the everyday rigors of the Maritime workplace.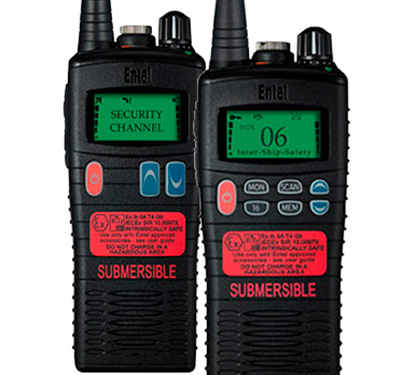 Highlights
Superior voice quality and volume
IP68 (2 meters depth for 4 hours) submersible
HT944 & HT983 – ATEX (II 2 G Ex ib IIC T4) and HT844 & HT883 – ATEX II2 G Ex ib IIA
Full Range of Accessories
As a major supplier of ATEX firefighter radios to Fire and Rescue organizations globally, Entel has an extensive selection of firefighter radio safety equipment complete with a full range of audio accessories appropriate to this application. This includes a range of bone-conductive options that can fit easily with existing Breathing Apparatus. Should the customer demand radio communication with the use of integrated Breathing Apparatus, two market leading products from Draeger and Scott Safety that are approved on our ATEX certificate.
Want to know more?
Contact one of our specialists for more information or a quotation, they are more than willing to assist.