The industrial grade DTEx Fire Fighter Series is designed and approved to meet the latest MED standard implementation regulation MED/5.20 and European ATEX directive.
The ultra-durable fire-red coloured DTEx Series sets the benchmark for next-generation MED compliant Firefighter radios. Standard features include high visibility OLED display, high torque ergonomic controls designed for gloved-hand use, and industry-leading IP68 2m 4 hours submersible rating, to provide 100% reliability and usability even in the most extreme conditions.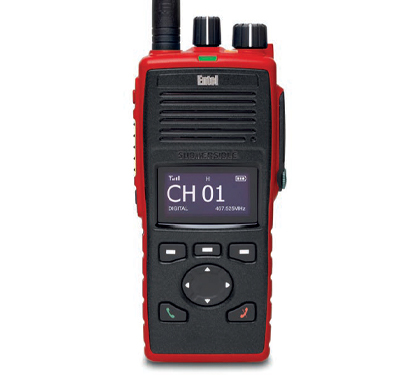 Ask Us for More Information?
Contact one of our specialists for more information or a quotation!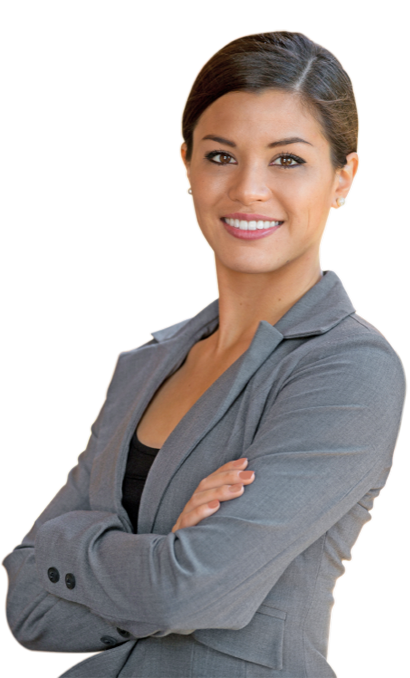 Features
173 Channels, 3 Zones (INT, USA, CAN)
IP68 Submersible (2m, 4 hours)
MILSTD construction 810C/D/E/F/G
High-capacity Li-Ion battery
Exceptionally loud & best clarity audio – in class
Display channel number & frequency
Programmable buttons
Gold plated accessory connector
Locking accessory connector
Accessory audio tailoring optimizes audio for each accessory
Easy to read, high contract white on black OLED display
Drag and drop end user programmer, no need to visit site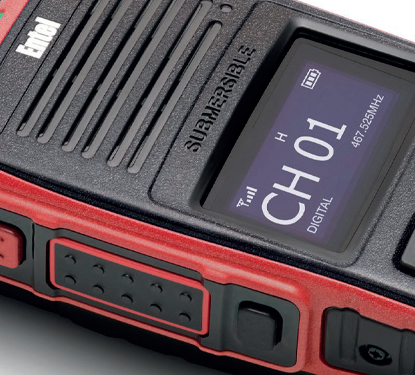 IP68 2 Meters, 4 Hours Submersible
The DTEx Series delivers a class leading IP68 2 metres for 4 hours submersible rating, the highest IP rating of any manufacturer. This ensures protection against corrosion and likely hazards encountered in life at sea.
Intrinsically Safe Approved
ATEX Approved IIC – The DT900FF Series of ATEX certified portables meet IIC gas group, the most stringent ATEX rating as per EU Directive 94/9/EC.
ATEX Approved IIB – The DT800FF Series of ATEX certified portables meet IIB gas group, the minimum gas group requirement as per MED/5.20 Directive.
Dedicated accessories for Fire Fighters
Entel also offers an extensive range of ATEX approved accessories. The most popular for Fire Fighters is the CXR bone conductive throat and skull microphones which eliminate ambient noise, further enhanced by DTEx's speech tailoring technology delivering intelligible communications first time, every time. Also approved is a range of Draeger BA
and Savox speaker microphones.
Model List
| Model | ATEX Approval | Frequency | Analogue/Digital |
| --- | --- | --- | --- |
| DT844FF | IIB | VHF | Analogue |
| DT944FF | IIC | VHF | Analogue |
| DT885FF | IIB | UHF | Analogue & Digital |
| DT985FF | IIC | UHF | Analogue & Digital |