Marport M3
The Marport M3 is designed as a highly sophisticated multi-function acoustic receiver. Although it is the most compact receiver from Marport, it uses leading edge digital signal processing that we have combined with the smartest software available. The aim is to make multi-channel operation possible without any compromise between transmission range and signal detection.
The Marport M3 works with an Apple Mac Minicomputer, that processes the data from the sensors and displays them on your screen.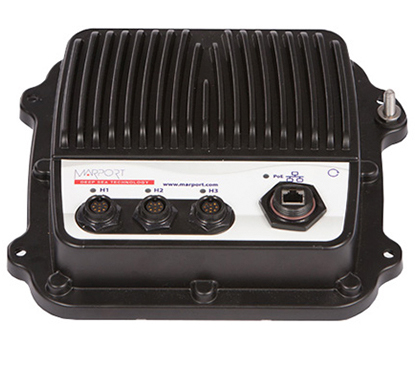 The M3 has a full range of capabilities
You can listen to 3 hydrophones simultaneously. Only data coming from the hydrophone delivering the best signal are interpreted. As a result, you do not need a hydrophone selection switch, as often used in older types of receivers.
You can have a simultaneous reception from up to 12 data (depth, pitch, roll…) from standard sensors (e.g., door spread, catch).
You can combine standard sensors with 1 high-definition reception sensor (e.g., HDTE or NBTE sensor such as trawl explorer, catch explorer).
You can configure your sensors to have a net monitoring configuration that suits your type of trawl's gear.
There are 1 NMEA and 2 NTC entries to receive hydrophones' temperature data.
You can upgrade the M3 system to an M5 system to be able to add more standard (up to 100 PRP sensors) and high-definition sensors (up to 10).
Want to know more?
Contact one of our specialists for more information or a quotation, they are more than willing to assist.