Radio Zeeland TITAN 1100 Engine Data display
The Radio Zeeland TITAN 1100 unit is an engine data display unit. With this compact unit it is possible to read out two engines at the same time. The data of both engines can be visualized on one screen.
The Radio Zeeland TITAN 1100 operates with electronic engines and with engines equipped with sensors. For engine brands or types of engines that are not yet configured, in this system Radio Zeeland DMP can develop software on demand.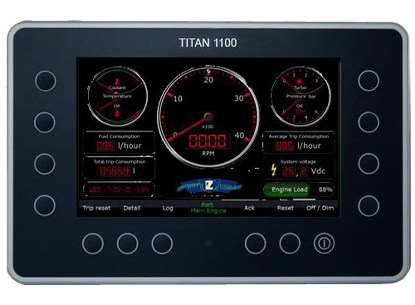 Features
The Main page has a fixed layout, though the text fonts are customizable. The I/O's can be connected to any gauge on the layout, creating a user-friendly platform with which the user can customize its own pages.
The overview page contains digital numeric readouts.
The alarm page provides overview over 8 analogue and 8 digital value's, that can give an alarm once it reaches a value in a predefined range.
Engine data
The TITAN 1100 unit can read out valuable engine data such as fuel consumption, RPM and coolant temperatures. This data is transferred to the TITAN-1100 display unit and displayed in a few pages. The TITAN-1100 operates with electronic engines and with engines equipped with sensors. The incoming CANBUS J1939 data can be send out in Modbus TCP.
Multiple engines
The Radio Zeeland TITAN 1100 holds the possibility to visualize the engine data of two different engines or generators on one screen. This way, the TITAN-1100 provides a quick overview of engine data for vessels with one or two engines.
Hardwired functions
The emergency functions of the engines are connected hardwired, to prevent software errors from disrupting crucial emergency functions.
Display
This TITAN-1100 display is fitted with a dimming system. This system has the possibility to issue multiple dim groups, allowing the user to dim multiple TITAN-1100 or TITAN-1000 displays at the touch of one button. It also allows multiple displays to be put into night view mode.
Want to know more?
Contact one of our specialists for more information or a quotation, they are more than willing to assist.