Cobham SAILOR 4300 L-BAND Terminal
The next generation SAILOR 4300 L-band antenna is the first in Cobham's Iridium Certus Connected range of terminals. It is the perfect choice as either a high performance, stand-alone terminal to upgrade your vessel's communications, or as a dependable backup solution for your existing VSAT system.
The SAILOR 4300 L-Band System consists of an ADU (Above Deck Unit) and a BDU (Below Deck Unit). The two units are connected with a single coax cable with TNC connectors. The system is DC powered. The SAILOR 4300 L-Band System is used for voice calls and data sessions. Iridium OpenPort Services offer up to 134/134 kbps, while Iridium Certus 350 Services offer up to 176/352 kbps uplink/downlink clarification. Iridium has 100% global coverage.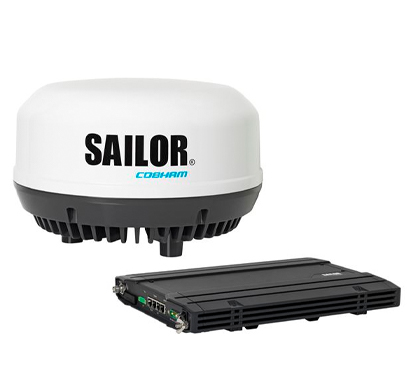 Above Deck Unit (ADU)
The ADU consists of an antenna with an RF-unit, unit for antenna control and GPS antenna. The ADU is dedicated to the Iridium system. All communication between the ADU and BDU passes through a single coaxial cable. The ADU is protected by a thermoplastic radome*
*) A dome protecting radar equipment.
Below Deck Unit (BDU)
The BDU is the central unit in the system. It contains all user interfaces and handles all communication between the ADU and the local communication units (phones, computers etc.). The BDU has built-in tests (BITE) for Power-On Self-Test (POST) and Continuous Monitoring (CM). It comes in two versions, one designed for wall or desktop installation, and one designed for installation in a 19" rack.
The SAILOR 4300 L-Band System provides up to 3 IP voice calls and data sessions for multiple users simultaneous. The BDU has three user LAN ports for user data traffic, voice and data. The data session activation can be set to automatic or manual mode. A data session can be activated automatically at start-up or manually.
More performance, less cost
SAILOR 4300 L-band terminal enables you and your crew to operate with greater safety and efficiency through secure voice calling and reliable satellite connectivity regardless of weather conditions or worldwide location. Through Iridium NEXT, the terminal enables fast internet speeds suitable for both data heavy applications and everyday usage, such as email, electronic reporting and crew communication. SAILOR 4300 L-band terminal also minimizes total cost of ownership with low hardware costs and no scheduled service requirements.
Simplicity and reliability
SAILOR 4300 L-band terminal has been designed for seamless compatibility with SAILOR VSAT. Both systems use the same interface and are simple to integrate using the built-in application programming interface (API). The terminal is extremely light and compact, making it easy to install with one cable below deck and an integrated antenna and modem.