Furuno DS-80
The Furuno DS-80 is an SDME (Speed and Distance Measuring Equipment) utilizing the Doppler Effect principle. It complies with the latest IMO, IEC and ISO standards as well as the rules of the classification societies.
Unlike an electromagnetic speed log or other type, this equipment does not require a sensor protruding through the ship hull; this greatly reduces the routine maintenance. Another special feature is the capability to measure own ship speeds at dead slow movement with high accuracy. The pair-beams at 1 MHz sonic frequency ensure accuracy in rough water.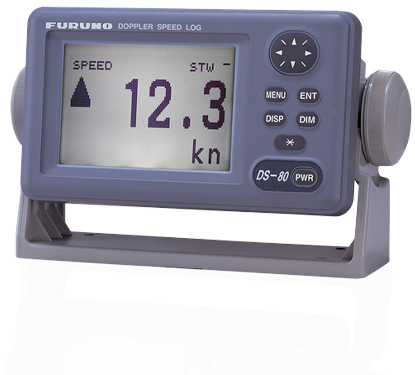 Features
1mHz Paired-Beam Doppler Effect Measuring System
Vessel Speed and Distance Run Display
4.5″ Illuminated Monochrome LCD with Selectable 12mm or 23mm Character Size
Simple Operation – just turn it on
Speed Output Data Feed for ARPA, Radar, ECDIS, AIS, VDR, GMDSS Equipment, etc.
Fore – Aft Speed Range = -10.0 to +40 Knots Through-The-Water
Distance Run Range = 0 to 999,999.99 Nautical Miles
Distance Run Reading resettable to any value within range
Speed accuracy of 1.0% or 0.1 Knots, whichever is greater
Distance accuracy of 1.0% or 0.1 Nautical Miles, whichever is greater
Paired Beams increase accuracy and eliminate the effect of vessel pitching
Easy speed correction settings during trial runs
Demonstration Mode
Diagnostic Mode
Automatic Mode switches DS80 to GPS Speed if SDME fails
Compliance with latest IMO Standard A.824, IEC 61023 and ISO standards
Automatic velocity correction for any water temperature change
Optional Analog and Digital Remote Displays are available
Simple operation. In most cases all that is required to display ship's speed is to turn on the equipment.
Pair-beam system effectively reduces error caused by pitching. The transducer assembly symmetrically emits two sonic beams, one fore and the other aft. By averaging the Doppler shift in both directions accurate speed data is available under rough sea conditions.
Speed and distance information on the adjustable-contrast LCD display.
Analog display, digital Indicator and digital distance indicator display optionally available.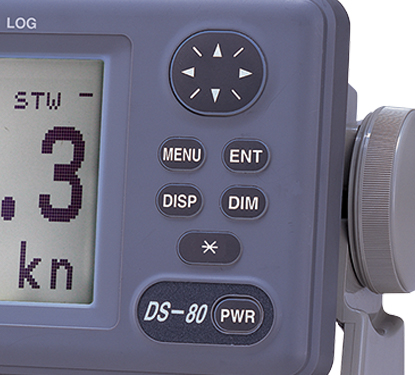 Simple operation system
The primary functions of the Furuno DS-80 operate without any interaction. Simply keep the power-switch on. The user-friendly menu ensures easy adjustment of all functions. Auxiliary functions such as resetting the Distance Run and speed offset are easy using the menu.
Optional analog and digital remote displays are available to enhance the convenience of navigation. A new transducer was designed with the same dimensions as the DS70 transducer. It may be fitted to the hull directly or with a gate valve.
Want to know more?
Contact one of our specialists for more information or a quotation, they are more than willing to assist.