Naviknot Multi-Sensor Speed Log
The new generation of Sperry Marine Naviknot, the NAVIKNOT 600 Series Speed Log, utilizes satellite-based technology (GPS) to determine dual-axis speed over ground.
The 350, 450 and 600 series of Sperry Marine NAVIKNOT offer unlimited flexibility and have been designed with the most modern computer tools for application on all types and sizes of vessels including cruise ships, container ships, tankers, mega yachts and a wide variety of other craft, both new build and retrofit.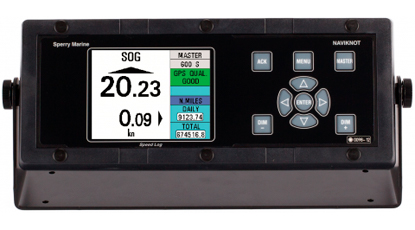 Sperry Marine Naviknot Features
Suitable for all types of vessels ranging from small pleasure craft to the largest crude carriers
Simple and low-cost installation
Speed accuracy ±1% or 0.1 kn whichever is greater
Large color TFT display n Display colors selectable by the operator
Varied selection of speed and distance interfaces
Double-end ferry mode
Miles counter (one total counter and one daily counter)
Separate damping for speed display and outputs (0 – 99 sec.)
Displays longitudinal and transverse speeds (transverse speed 600 S, 600 SE & 600 SD only)
Support of docking maneuvers by displaying rate of turn, heading, course over ground, longitudinal speed over ground, and bow and stern transverse speed over ground (600 S, 600 SE, 600 SD)
Remote control and display units are available in different sizes
Integrated take-over function Remote-to-Master
Type approved by Germanischer Lloyd to Marine Equipment Directive (MED) 96/98/EC
Ask Us for More Information?
Contact one of our specialists for more information or a quotation!