Furuno CSH-5L Sonar: MARK-2 Full-Circle Color Scanning Sonar
The Furuno CSH-5L sonar is a full-circle scanning sonar that rapidly detects and displays individual fish, schools of fish and changing underwater conditions. Fish distribution and seabed conditions are shown in 16 colors, 360 degrees around the vessel.
Full-circle scanning sonar detects and instantaneously displays fish schools and underwater conditions. The Furuno CSH-5L sonar MARK-2 is a middle frequency sonar (55/68 kHz), which makes it ideal for searching for distant fish schools. With automatic tilt scanning as a standard feature, the CSH-5L MARK-2 is suitable for both midwater trawlers and purse seiners. The CSH-5L MARK-2 is provided in a BlackBox configuration for space saving and flexible installation. It consists of a compact hull unit, transceiver unit and processor unit.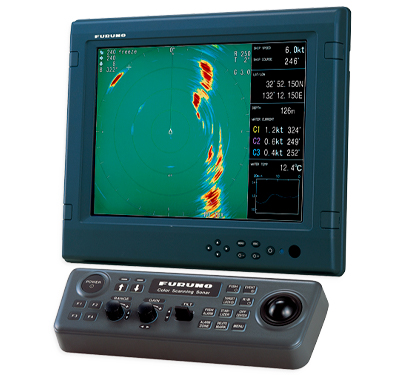 Highlights
High power transmitter ensures reliable operation under any conditions
Transducer frequency: 55 or 68 kHz
With the CSH-5L MARK-2 you can confidently fish in shallow areas and increase your catch
Various fishing and navigation data* keps operator abreast of fishing and navigation conditions
*Requires appropriate sensors

Four User-Programmable Function Keys
The control unit of CSH-5L MARK-2 combines ergonomics and functions in a user-friendly manner. All controls quickly respond to the operator's command and the associated reaction can be seen on the screen immediately. Four user-defined functions can be assigned to Function keys (F1 to F4), providing for rapid setup and operation.
Vivid 16-Color Display
A variety of monitors are available to suit installation and operational requirements. FURUNO's MK-series displays are specially designed to meet the requirements of marine professionals. For a remote station, a second display and remote control can simply be plugged into the processor unit.
Find out more?
Contact one of our specialists for more information or a quotation!