Wassp F3X Multibeam sounder
With 12 times the power of the F3, all-new WASSP F3X is a quantum leap forward in multibeam sounder technology. The WASSP F3X features the higher power DRX-46 processor, with a high frequency transducer WMB-160, giving you a maximum depth of 600m.
This, along with long pulse time that equates to more energy in the water means more clarity in shallow and medium depths of 50 to 600m. WASSP F3X also comes as standard with our patent pending Interference Management Systems (IMS), including AKP ready for install on complex vessels with several other existing sounders and sonars.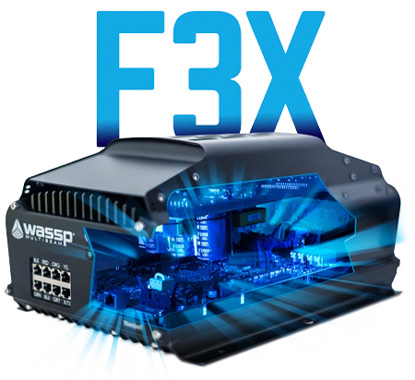 Digital DRX Transceiver
This innovative, low power, all-in-one "black box" is not just a robust a robust hardware platform. It also introduces world-leading cutting-edge technical innovations and incredible versatility for a variety of applications, from finding your catch and exploring new areas, to surveying and mapping. This opens countless new opportunities for your operations.
The DRX Transceiver is the heart of the WASSP system that provides live processing of your data to provide realistic sounder and mapping graphics
DRX-46 Specifications:
DRX-46 with WMB-160 transducer: 1 to 400m
DRX-46 with WMB-80 transducer: 2 to 600m
CDX Operating System
WASSP Generation 3 introduces a new simplified WASSP CDX for control, visualisation and data management, while still providing a comprehensive set of functions to meet the most demanding fishing requirements.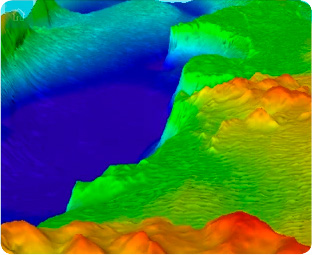 Features Include:
High resolution mapping
Multi-resolution mapping has a single database that becomes more detailed the more you zoom in
A clever algorithm takes best data from an old recording and new recording, providing for near-seamless mapping
Great high-resolution single, triple and Quint beam sounder providing a very clear visibility of both water column and sea floor
Single, triple and Quin beam high definition sounder F Series only
Sonar view to give instant current sounder view
Side scan when licensed
2D and 3D Mapping with or without water column targets and backscatter when licensed
Simplified graphical user interface
Focused on WASSP date presentation not multi-functional
Presents in a very accurate raw manner with minimal data cleaning or averaging
Enhances the core benefits of WASSP
Multi resolution database with automatic, depth-adjusted, best resolution mapping that can be used in all depths zoom in for higher resolution
Water column targets gain is aligned to give same color in all modes
Want to know more?
Contact one of our specialists for more information or a quotation, they are more than willing to assist.