Furuno CSH-8L MK2 Full-Circle Scanning Sonar
The Furuno CSH-8L MK2 sonar is a full-circle scanning sonar that rapidly detects and displays individual fish, schools of fish and changing underwater conditions. Fish distribution and seabed conditions are shown in 16 colors, 360 degrees around your vessel.
The CSH-8L sonar is an 85 kHz high frequency sonar, which makes it ideal for searching near the vessel or in shallow water because of its narrow beam width and enhanced target identification capability.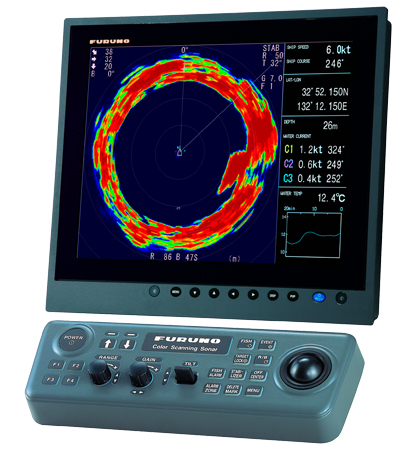 Key Features
360-Degree Omni Sonar detects and instantaneously displays schools of fish and underwater conditions
Black Box configuration allows for a space-saving, flexible installation
Variety of available monitors built to meet the needs of tournament vessels
The vivid 16-color display assists in recognition of seabed structure, as well as concentration/distribution of fish schools
At a 1,000 ft. range scan a full 360 degrees in just over 1/2 a second (even quicker at shorter ranges)
Various fishing and navigation data* keep the operator aware of fishing and navigation conditions
Four user-programmable function keys for quick set up according to fishing conditions or specific functions
Second display and control unit can be easily connected for a remote second station on the flybridge
High-power transmitter ensures reliable operation under any conditions
Narrow beam-width and enhanced target identification capability
Transducer frequency: 85kHz
* Requires appropriate sensors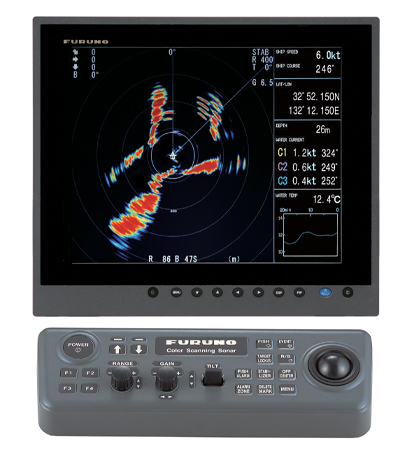 Furuno CSH-8L Separates Fish and Bottom Echoes
Fish and bottom echoes are clearly separated, and bait fish are more easily captured. With automatic tilt scanning as a standard feature, the Furuno CSH-8L sonar is suitable for both midwater trawlers and purse seiners.
Want to know more?
Contact one of our specialists for more information or a quotation, they are more than willing to assist.