Furuno DS-60 Doppler Sonar
The Furuno DS-60 provides accurate information of ship's speed over a wide range. Speeds are detected relative to the ground or water for both fore-aft and port-starboard directions. The measurement capability at dead slow speed is vital for precise docking of huge tankers to oil loading/unloading facilities, as well as safe navigation in narrow channels or straits. Operation at high speed assists economical cruising in open seas.
While retaining the measurement accuracy of the Furuno DS-30, the Furuno DS-60 provides a greatly downsized transducer unit. This means that the time for installation and space required for installation will be reduced. The compact, high-frequency transducer measures ship's longitudinal (fore-aft) and transverse (port-starboard) speed, as well as water speed and direction under the hull.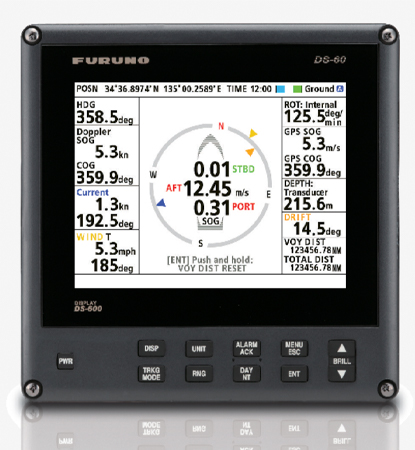 Key Features
Full compliance with IMO MSC.36(63), MSC.96(72), A.694(17) and A.824(19), required for the vessels of 50,000 GT and greater
Delivers high precision measurement required for berthing and docking maneuvers
3-beam transmission reduces the effects of vessel's pitch and roll in order to output precision measurements
320 kHz Frequency
Ground-tracking speed measurement range of up to 200 m
Workload for installation has been greatly reduced thanks to its compact transducer unit
8.4-inch color LCD display gives high-legibility, real-time information in both graphics and alphanumeric
Remote controller and dimmer controller available (optional supply)
Waterproof box for the display for wing installation (optional supply)
Additional remote display can be selected from color LCD and red LED display
Water-tight connector available for the transducer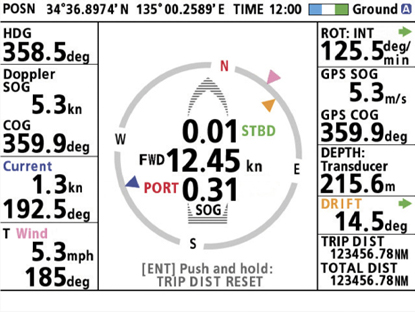 Enhanced Performance
The 8.4-inch color LCD display shows information in both alphanumeric and graphics. It offers three display modes: 3-axis speed, berthing and NAV data. The modes can be switched with the optional remote controller. For wing installation, IP56 waterproof box for the display is available (optional supply).
The Furuno DS-60 comes standard with the DS661 gate valve and tank. If a tank without gate valve is desired, the DS661 may be replaced with the DS660 tank without flange.
Want to know more?
Contact one of our specialists for more information or a quotation, they are more than willing to assist.