CH-37BB Color Sector Scanning Sonar
The Furuno CH-37BB sonar is a high-performance color sector scanning sonar suited for bottom trawlers, tuna seiners and other fishing vessels. Based on FURUNO's exclusive multi-sector beam-forming technology, the Furuno CH37 sonar provides the combined advantages of searchlight and omni-directional sonars at a reduced cost.
Clear and vivid underwater images with Furuno CH-37BB sonar
The Furuno CH-37BB sonar shows vivid and clear underwater images in five display modes: full-circle, vertical-fan, semi-circle and vertical-fan, 1.5x zoom and 3D graphics.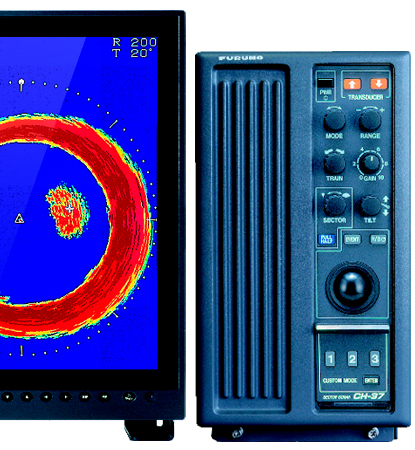 Main features
Full-circle, sector or vertical-fan scanning display modes
Historical seabed image using unique 3D graphics processor
Choice of 60, 113 or 162 kHz
Normal or fast scanning
8 or 16 color presentation
Displays ship's position, heading, intended course line, and water currents when interfaced with appropriate sensors
One-touch selection of optimum sonar settings with user-programmable "custom" function keys
The optional MS-100 motion sensor electronically stabilizes the sounding beam for up to 20-degree roll/pitch for a steady picture presentation
The dual mode for easy evaluation of distribution of fish school at vertical/horizontal planes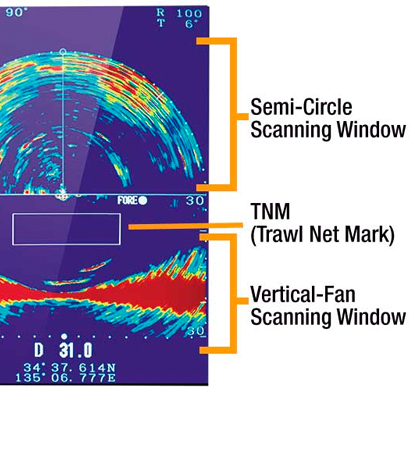 Powerful dual mode for precise net placement
Full-circle scanning (with the capability of scanning a user-specified sector area in a reduced time) presents a picture like a scanning sonar with adjustable tilt for rapid location and tracking of fish targets. Vertical-fan scanning uses a fan-shaped sounding beam directed downward with up to 180° vertical sector coverage presenting an echosounder-like cross section of the underwater situation. The Vertical-fan mode greatly supports your fish finding operation. It is also useful for monitoring the net shape and for bottom fish detection. The Dual mode shows the vertical and horizontal presentation on the same screen. It is useful to evaluate the distribution of fish school in horizontal and vertical planes. A TNM (Trawl Net Mark) can be displayed at vertical plane on the vertical-fan scanning and dual modes. By inputting net height and width dimensions, the operator can overlay the net mouth opening.
Want to know more?
Contact one of our specialists for more information or a quotation, they are more than willing to assist.