Radio Zeeland FALCON 650 Steering Lever
The Radio Zeeland FALCON 650 is the follow up steering lever. It has a sturdy tiller and basic controls. It can be connected to the rest of the system using the Ethernet network. The unit is finished in glass and up to three FALCON-650 levers can be connected to a network.
The switching technology of the Falcon II 650 steering lever has been updated for ease of use. The LCD display provides clear information about the selected function, alarms etc.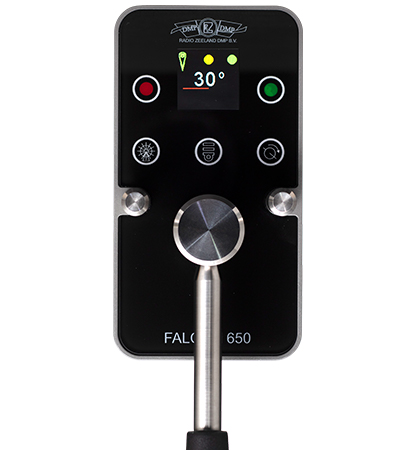 Technical Specifications:
Power supply 18-36 VDC
Power consumption less than 0.5A
Built-in power supply alarm
Radio Zeeland Falcon 650 Is Interchangeable With Sigma & Titan
The dimensions and connections are almost the same as those of the Sigma 600/650 and Titan, which makes the products interchangeable, although the depth is slightly greater. The Falcon II 650 can be connected directly to the sensor, or in a network for flexible installation.
Scope of Supply:
FALCON-650 steering lever
Mounting set
Connection set
Manual
Want to know more?
Contact one of our specialists for more information or a quotation, they are more than willing to assist.