Radio Zeeland TITAN 300 Rate of Turn indicator
The Radio Zeeland TITAN 300 is a Rate of Turn indicator set that can be set to two different ranges. By the touch of a button the TITAN-300 is set to a range of 90 or 270 degrees. The TITAN-300 can be used in combination with the TITAN-550 autopilot. The display unit can be used as repeater indicator allowing for repeaters in several locations. The TITAN-300 can also be used as a standalone unit.
The TITAN-300 set is supplied with a P-300 Rate Of Turn sensor that is unique in its kind. This sensor has proven its value throughout years of reliable service. With the use of linear critical damping, it is always stable. The display unit is protected against over voltage and very suitable for inland shipping and large push boats.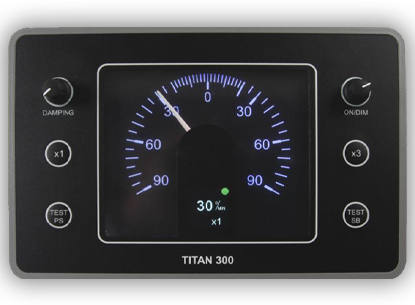 OLED Display & Dimming
The small OLED display in the middle of the analogue gauge also provides a digital read out. This ensures a quick and orderly overview of the provided data. General information, feedback and functions are also indicated on the OLED display.
The Radio Zeeland TITAN 300 display unit can be dimmed synchronized with the rest of the Radio Zeeland DMP system. Even when used as a repeater, the dimming of the main unit and the repeater can be synchronized. The indicator of the TITAN-300 display unit is illuminated with LED- backlighting. The color of the lighting can be set to three different colors, Red, Yellow, or Blue, creating a night view adjustable to personal preferences.
Want to know more?
Contact one of our specialists for more information or a quotation, they are more than willing to assist.